If you're new to my blog, you probably don't know this, but I really love thrifting. I go to thrift stores or a flea market at least twice a month; you just never know what treasures are waiting for you.Not too long ago I was looking around at the Goodwill and I spotted this beautiful French Providence desk which was only $20; what a steal! However I was having doubts about getting it because it was filthy. I checked the desk and I knew it just needs some TLC and a fresh coat of paint.
I'm super happy that I team up with Annie Sloan to bring you this project. This was my first time using Chalk Paint® a decorative paint by Annie Sloan. I've heard great things about the products made by Annie Sloan but I had never used any of them, until now.
After using their Chalk Paint® in Old White and Clear Wax I was more than impressed by the quality and ease of use. The paint is quite thick and the coverage is quite amazing! Even with one coat of paint the desk looked fantastic. I did end up using two coats of paint however looking back I think I really only needed the one. I also used to coats of wax, which seals and protects everything. To paint the furniture I used less that 1/3 of a quart and the can of wax is it pretty much full, a little goes a very long way. I cannot wait to find another great piece of furniture that I can transform using Chalk Paint®, it really is one of my new favorite products. If you have any piece of furniture at home that you wish to enhance or that is simply in need of a makeover, consider using Chalk Paint®. It's fast, it's easy, and it looks great.
If you're working on restoring an old piece of furniture and you derive inspiration from this post or it's accompanying video share a pic of the work of my Facebook page or tag me on Instagram. I love seeing all of the great work happening in the DIY community.

Si eres nueva en mi blog probablemente que no lo sepas, pero a mi me encanta ir a las tiendas de segundo uso. Voy a tiendas de segunda mano o al mercado de pulgas por lo menos dos veces al mes. Uno nunca sabe son el tesoro que puede encontrar. No hace mucho tiempo que estaba en Goodwill dándome una vuelta para ver que encontraba cuando me tropecé con este hermoso French Providence escritorio, lo mejor era el precio, solo por $20, un precio muy bueno. Sin embargo, estaba teniendo dudas sobre comprarlos porque la verdad estaba bastante sucio, pero después de revisarlo me di cuenta que los problemas de el escritorio eran simplemente estéticos y con una capa de pintura iba a quedar espectacular.
Este proyecto es una colaboración Annie Sloan, esta fue mi primera vez usando Chalk Paint® una pintura decorativa de Annie Sloan. He oído cosas maravillosas sobre los productos hechos por Annie Sloan, pero nunca había utilizado ninguno de ellos, hasta ahora.
Después de usar su Chalk Paint® en Old White y Clear Wax, quedé más que impresionado por la calidad y facilidad de uso. La pintura es bastante espesa esto hace que la cobertura sea increíble. Incluso con solo una capa de pintura el escritorio ya se veía listo. Sin embargo solo para estar mas segura le di un total de dos capas de pintura. También usé dos capas de wax que el sella y protege la pintura. Para pintar este escritorio utilicé menos que 1/3 del cuarto de galón y la lata de cera esta casi como nueva. No puedo esperar el momento en que encuentre otro mueble que pueda transformar usando Chalk Paint®, se ha convertido en uno de mis nuevos productos favoritos.
Si tu tiene cualquier mueble en casa y desea actualizarlo o simplemente necesita un cambio de look, considere usar Chalk Paint ® es bastante fácil de usar y se ve genial.   Si te animas a pintar un mueble como yo lo hice no te olvides de compartir una foto en mi pagina de Facebook o etiquetarme en Instagram, me encanta ver como te quedo.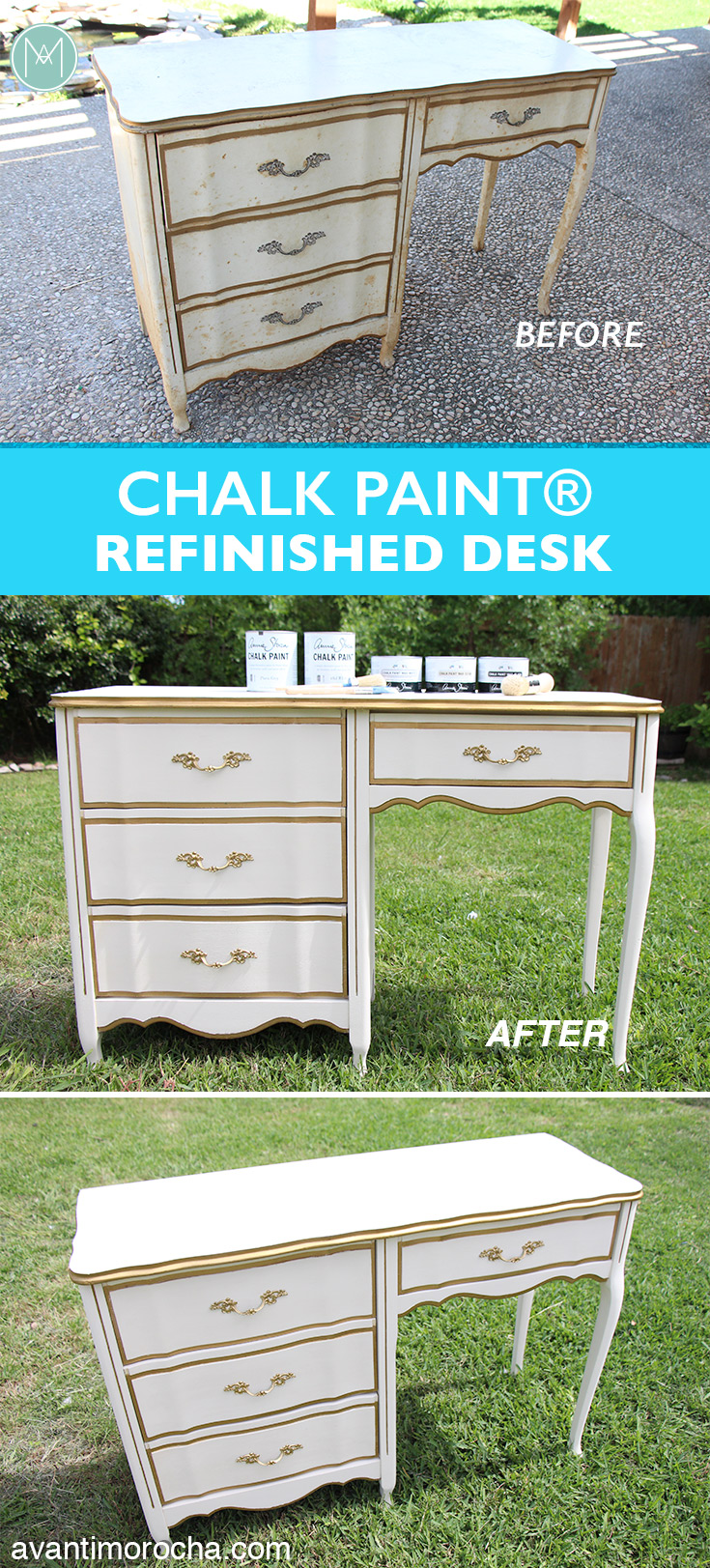 WATCH THE VIDEO TUTORIAL
If you liked this post, I'd so appreciate your pins and shares!