One of the easiest ways to brighten your home is to use decorative throw pillows, and you don't need to spend much money to do a lot of brightening. Simple pillow covers are inexpensive, and you can easily personalize them using Cricut and iron-on.
A Cricut Access subscription shines when you are doing projects like these. The subscription provides access to more than 100,000+ images and hundreds of fonts.
If you're someone that likes making these kinds of project, I recommend getting an EasyPress; this is a game-changer. The first projects I made with iron-on I used my home-iron. I remember thinking I may be doing something wrong because this iron-on is not transferring, the truth is that if you are using a home iron, it's going to take you more time to transfer a design. If you're using a white base (t-shirt, pillow cover placemat), there is a big chance that you damage the fabric before a transfer is even complete.
I put together these Easter pillows covers using images from Cricut Access, here are the links; Bunny Pillow Cover and Peeps Pillow Cover. Remember, to be able to use these images; you'll need to be subscribed to Cricut Access.
Watch the video tutorial to learn how to make this gorgeous Easter Pillow Covers.

Una de las formas más fáciles de decorar su hogar es usar cojines festivos, la mejor es que no necesita gastar mucho dinero, sólo necesita comprar fundas de cojines y personalizarlas con Cricut y Iron-on. Has cojines decorativos para todo tipo de ocacion; si estás suscrito a Cricut Access, tienes más de 100,000 imágenes y fuentes para elegir.
Si eres de los que le gusta hacer este tipo de proyecto, te recomiendo obtener un EasyPress; Los primeros proyectos que hice con iron-on fueron usar la plancha de mi casa. Recuerdo pensar debo estar haciendo algo mal porque este iron-on no se está transfiriendo, la verdad es que si está utilizando una plancha, le llevará más tiempo transferir un diseño. Si está utilizando una base blanca (camiseta, mantel individual con funda de almohada), existe una gran posibilidad de que dañe la tela antes de que se completes la transferencia.
Arme los diseõs de los cojines de Pascua usando imágenes de Cricut Access, aquí estan los links, Bunny Pillow Cover y Peeps Pillow Cover, para poder usarlo debes estar suscrito a Cricut Access.
Mira el video tutorial para aprender cómo hacer estas hermosas fundas de almohadas de Pascua.
If you liked this post, I'd so appreciate your pins and shares! Don't forget to follow me on my social media.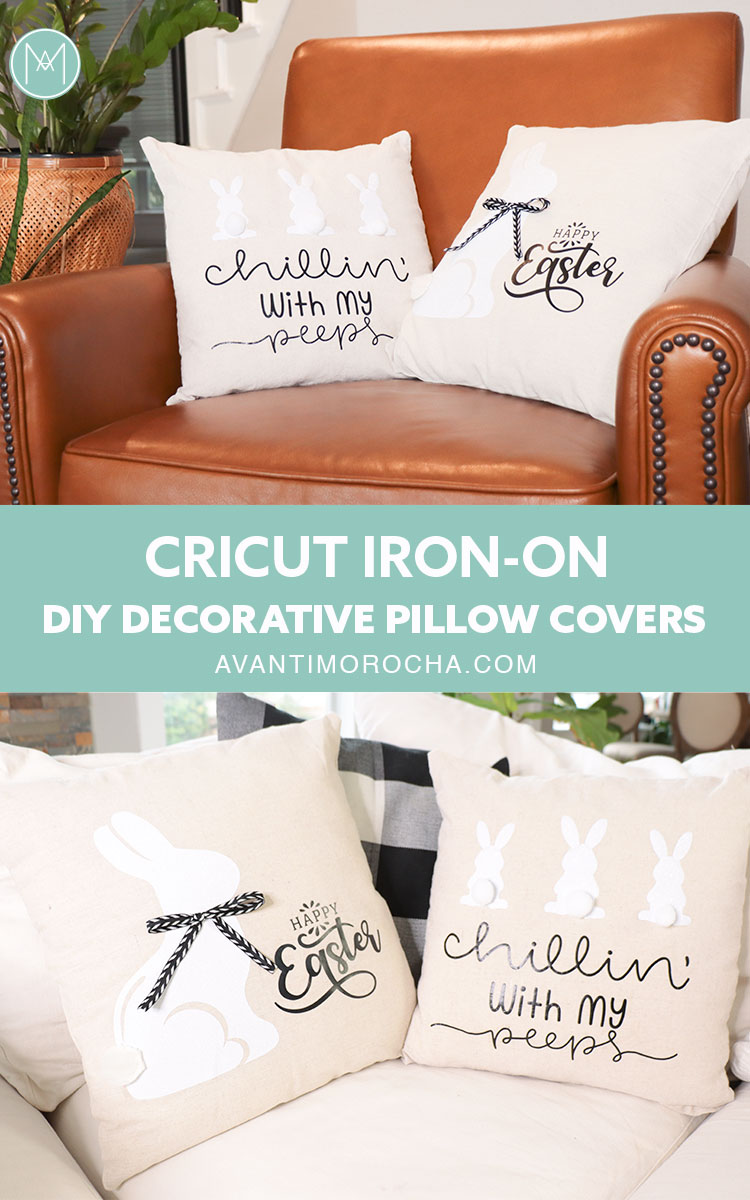 This post contains affiliate links and I earn a small commission if you make a purchase after clicking on my links. It doesn't cost you any extra.
Buy a Cricut Maker | Buy the Cricut Pens | Subscribe to Cricut Access

a42a4d41a9a419823cf7859bf43a974e0b892b63ef0d19161c