Hi guys! I'm super excited to show you how to make these beautiful earrings using Cricut Maker and the Knife Blade. Ever since I brought my Cricut Maker online, I have been dying to try wood cutting with it.
My first experience cutting wood with Cricut was around three years ago, and I was using a Cricut Explore with the deep cut blade, it didn't work as I was expecting. By all accounts, it was a fiasco made worse by the fact I was using the wrong kind of wood (Birch).
As you may already know, the Cricut Maker the most powerful machine in the Cricut line-up. One of the main reasons this is such a powerful machine is its adaptive tool system which includes the rotary blade, the knife blade; and the scoring wheel, the last two are sold separately. If this is your first time using the knife blade, you'll need to calibrate it before using it. I recommend trying a test project which will help preserve the material.
For this project, I'm using basswood, earrings hooks, and jump rings which I got at Hobby Lobby. The first time I cut the basswood set the machine to "basswood 1/32", but during the cut, I realized it was using 18 passes, and that was far too many for this thin piece of wood. I stopped the cut and removed the mat after seven passes. Then I tried to create a material, but I found out you can't create or modify a material that uses the knife blade, which is a feature gap but should be released sometime in the future. I then reset the material to "Balsa 1/16" but that didn't work well either. Finally, I set the material to "Balsa 3/32", and it worked perfectly.
I hope you like this project, and you enjoy the video. If you make these earrings don't forget to share a picture on my Facebook page or tag me on Instagram, I'd love to see it.
Watch the video in English


¡Hola chicos! Estoy súper emocionada de mostrarte cómo hacer estos hermosos aretes con Cricut Maker y the Knife Blade. Desde que adquiri mi Cricut Maker hace un par de meses he estado muriendo por intentar cortar madera con él.
Mi primera experiencia cortando madera con Cricut fue hace aproximadamente tres años, y estaba usando un Cricut Explore con la cuchilla de corte profundo, no funcionó como esperaba. Me quedo mal, fue un fiasco empeorado por el hecho de que estaba utilizando el tipo de madera incorrecto (Birch).
Como ya sabrá, Cricut Maker es la máquina más poderosa de la línea de Cricut. Una de las razones principales por las que esta máquina es tan poderosa es su sistema de herramientas adaptativas que incluye la Rotary blade, Knife blade y Scoring Wheel, los dos últimos se venden por separado. Si es la primera vez que usa la cuchilla, deberá calibrarla antes de usarla. Recomiendo probar un proyecto de prueba que ayude a preservar el material.
Para este proyecto, estoy usando basswood, ganchos y aros que compre Hobby Lobby. La primera vez que corté el pedazo de basswood coloque la máquina en el setting de "basswood 1/32", pero durante el corte, me di cuenta de que estaba iban a realizar 18 pases, y eso era demasiado para esta delgada pieza de madera. Paré el corte y la removí del mat después de siete pases. Luego traté de crear un material, pero descubrí que no se puede crear o modificar un material que use el knife blade, espero que Cricut permita pronto crear materiales usando el knife blade, pero por el momento esta opción no está disponible. Luego coloque como el material a "Balsa 1/16" pero tampoco funcionó bien. Finalmente, puse el setting con el material "Balsa 3/32", y funcionó perfectamente.
Espero que te guste este proyecto y que disfrutes el video. Si haces estos pendientes, no olvides compartir una imagen en mi página de Facebook o etiquetarme en Instagram, me encantaría verla.
Ve el video en Español

This post contains affiliate links and I earn a small commission if you make a purchase after clicking on my links. It doesn't cost you any extra.
COMPRA UNA CRICUT EXPLORE
COMPRA CRICUT MAKER
SUSCRIBETE A CRICUT ACCESS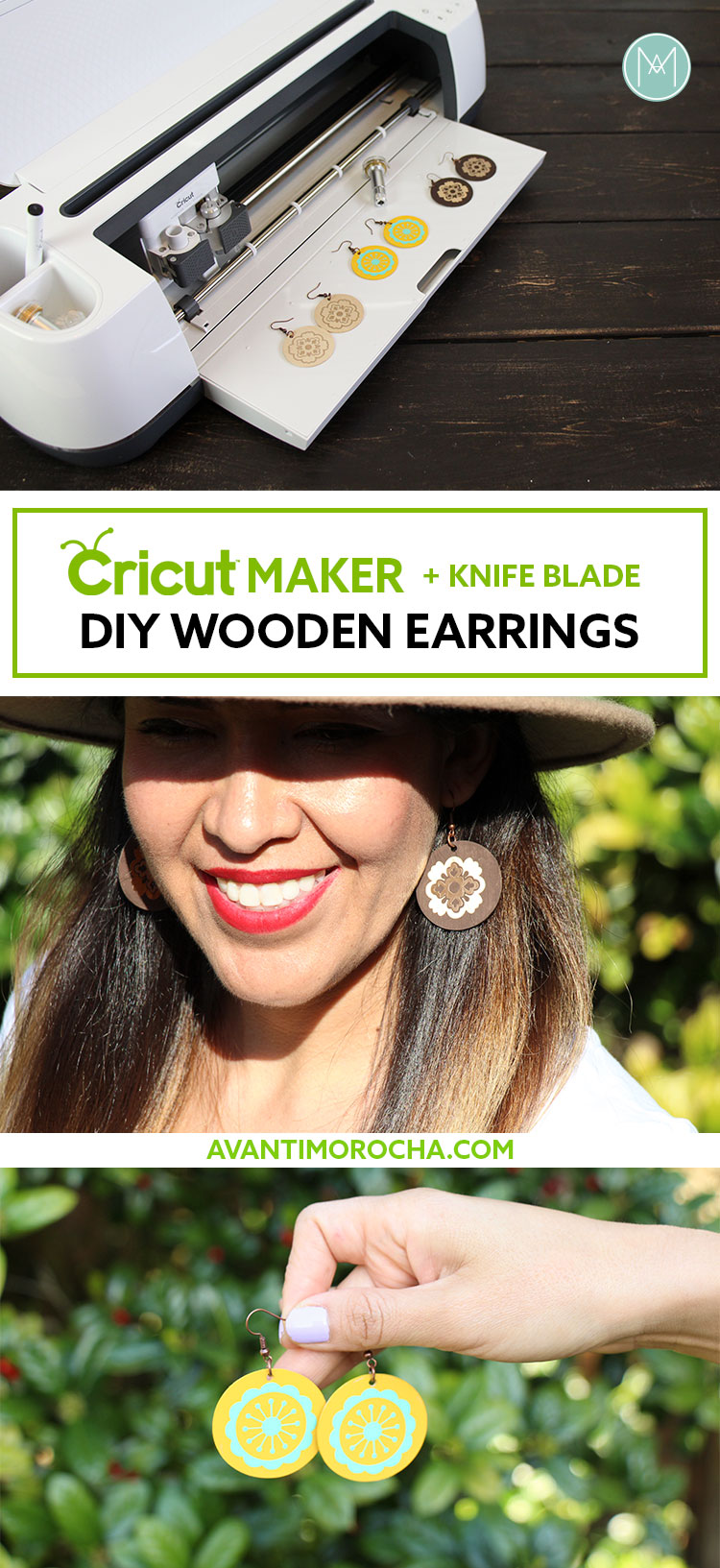 Here is the link to the Wooden Earring project, you need to be subscribe to Cricut Access to use it. Aqui el link al Proyecto de los Aretes de Madera. Tienes que tener Cricut Access para poder usarlo.