Hello friends! Can you believe Christmas is just around the corner? Time flies! If you've followed me for a while you know there is nothing I love more than making DIY home decor, especially for the holidays. I saw this project a couple of years ago on the cover of Martha Stewart magazine and this year I've decided to make it, adding my own personal touch.
For this project, I designed my own little houses they are available to download in PDF, SVG and STUDIO 3 format (only for personal use).
Use this LINK if you're using a Cricut machine.
Use the PDF files if you're going to cut them by hand (print then cut).
Use the SVG or STUDIO 3 files if you have a cutting machine.
If you're using a Cricut I recommend using the scoring tool, also, remember to attach all layers before sending it to cut. Cameo3 doesn't have a scoring tool, but you can change the setting of the blade so doesn't cut through the cardstock. I'm going to make another video where I'll show you everything you need to know about scoring with Cricut and Cameo.
Using a cutting machine for this project speeds just about everything up, however, if you don't have a cutting machine you can still make this project, it's just a little more time consuming but still a lot of fun.
I hope you like this project and if you make it don't forget to share a picture on my Facebook page or tag me on Instagram. I'd love to see it.
WATCH THE VIDEO TUTORIAL


¡Hola amigas! ¿Puedes creer que la Navidad está a la vuelta de la esquina? ¡El tiempo vuela! Si me has seguido de tiempo, sabes que no hay nada que me guste más que hacer la decoración para el hogar, especialmente para las festividades. Vi este proyecto hace un par de años en la portada de la revista Martha Stewart y este año decidí hacerlo, agregando mi toque personal.
Para este proyecto diseñé mis propias casitas que están disponibles para descargar en formato PDF, SVG y STUDIO3 (Solo para uso personal).
Usa este LINK si tienes una maquina Cricut.
Usa los archivos PDF si va a cortarlos a mano (imprimir y luego cortar).
Usa los archivos SVG o STUDIO3 si tiene una máquina de corte.
Si está utilizando un Cricut, le recomiendo usar la herramienta de scoring, también recuérdate de presionar "attach" en todas capas antes de enviarla para cortar. Cameo3 no tiene una herramienta de scoring, pero puede cambiar la configuración de la cuchilla para que no se corte a través de la cartulina y solo la marca. Voy a hacer otro video en el que te mostraré todo lo que necesitas saber sobre puntuación con Cricut y Cameo.
El uso de una máquina de corte para este proyecto acelera todo el proyecto lo que es genial, sin embargo, si no tiene una máquina de corte, aún puede hacer este proyecto, solo requiere un poco más de tiempo, pero sigue siendo muy divertido.
Espero que te guste este proyecto y si lo haces no te olvides de compartir una foto en mi pagina de Facebook o etiquetame en Instagram, me encantaria verlo.
This post contains affiliate links and I earn a small commission if you make a purchase after clicking on my links. It doesn't cost you any extra.
Supplies
24" Evergreen wreath
Cardstock 3d houses
Bottle brushes trees
X-acto, scissor
Glue stick
Materiales
24" Corona de pino
Casitas 3d de cartulina
Arbolitos
X-acto, tijeras
Pegamento en barra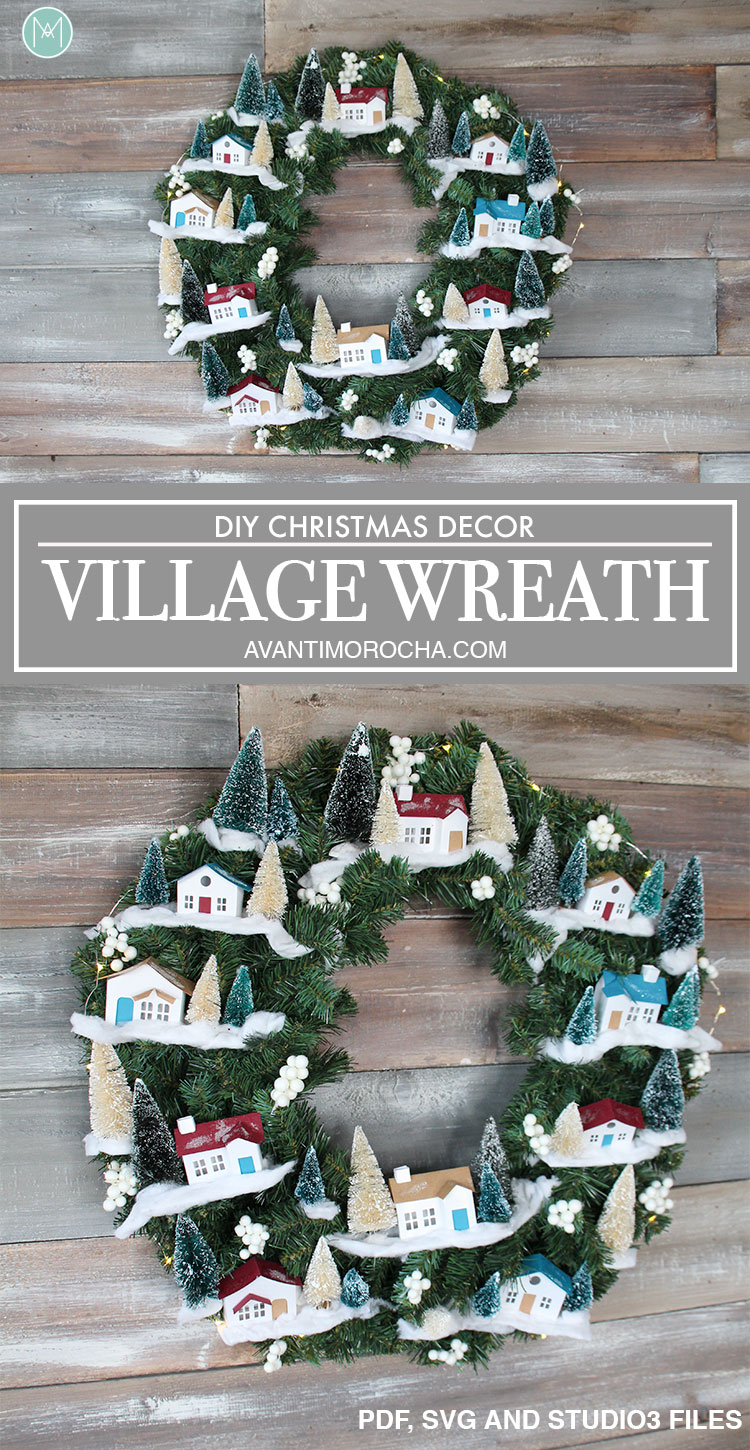 This post contains affiliate links and I earn a small commission if you make a purchase after clicking on my links. It doesn't cost you any extra.
Buy a Cricut Maker | Buy the Cricut Pens | Subscribe to Cricut Access