Ya se acerca el Día de San Valentín y pensé que sería genial para mostrarles algunas ideas de regalos para este día, la mejor parte es que todas las ideas son bastante económicas.
La primera es una bolsa de San Valentín, este es un DIY súper fácil como ustedes verán en el video tutorial. Lo que me gusta de usar pintura de la tela es que puedo lavar la bolsa y el diseño seguirá allí. Bandeja de pizarra, probablemente han visto este proyecto en Pinterest. Es fácil de hacer pero aquí algunas recomendaciones . Yo use Rust- Oleum Chakboard tintable, pero no me gusto el color . Yo les recomiendo conseguir la pintura en aerosol o la versión no tintable . Tienen que darle por lo menos 3 a 4 capas de pintura para que funcione bien. Si usted puede les recomiendo comprar el marcador de tiza porque les dará un mejor resultado al escribir. Por último tenemos Scrabble piezas de amor , me gusto mucho este proyecto se ve muy bonito; lo puede utilizar como decoración para el hogar o para sesiones fotográficas.
Espero que estos proyectos les gusten y si los hace por favor no se olviden de compartir una foto que me encantaría verlos.
Descarga los archivos necesarios  AQUI en Español
---
We are getting close to Valentine's Day and I thought it'd be great to show some gift ideas; those look great and are affordable. 
First the Valentine's Tote bag. This is a super easy DIY that uses simple products and looks amazing. Best part of this DIY is that it uses fabric paint, which can be washed. Next, the chalkboard tray, you probably have seen this project all over Pinterest. It's easy to make but I have some recommendations to make it even better. I used Rust-Oleum tintable paint, but I didn't like the finished color so I recommend getting the spray paint or at the very least not the tintable paint. You need to give the tray at least 3 to 4 coats to make it look the best. When you write your lovely messages into the Charlkboard tray I'd recommend a chalk marker as it'll give you the best control as you write. 
 
Last but not least, The Scrabble love pieces. I really liked this project. It looks so nice; you can use them as home décor or for photo-shoots.
 
I hope you like this project and if you make them please don't forget to share a pic. I'll love to see them 
Download the files you these project HERE
Materiales
Bolsa de San Valentin
Bolsa de canva
Pintura de tela
Lapiz
Bandeja de Pizarra
Bandeja ( tienda de dólar o segundo uso)
Pintura de pizarra
Brocha de esponja
Scrabble piezas de amor
Piezas cuadrada de madera de 9.5cm de lado
Pintura acrílica
Brochas
Supplies
Valentine's Bag
Tote bag
Fabric paints
Pencil
Chalkboard Tray
Tray (dollar or thrift store)
Chalkboard paint or spray
Sponge brush
Chalk stick or marker
Scrabble Love pieces
Wood square 3.75in (9.5cm)
Acrylic paint
Brushes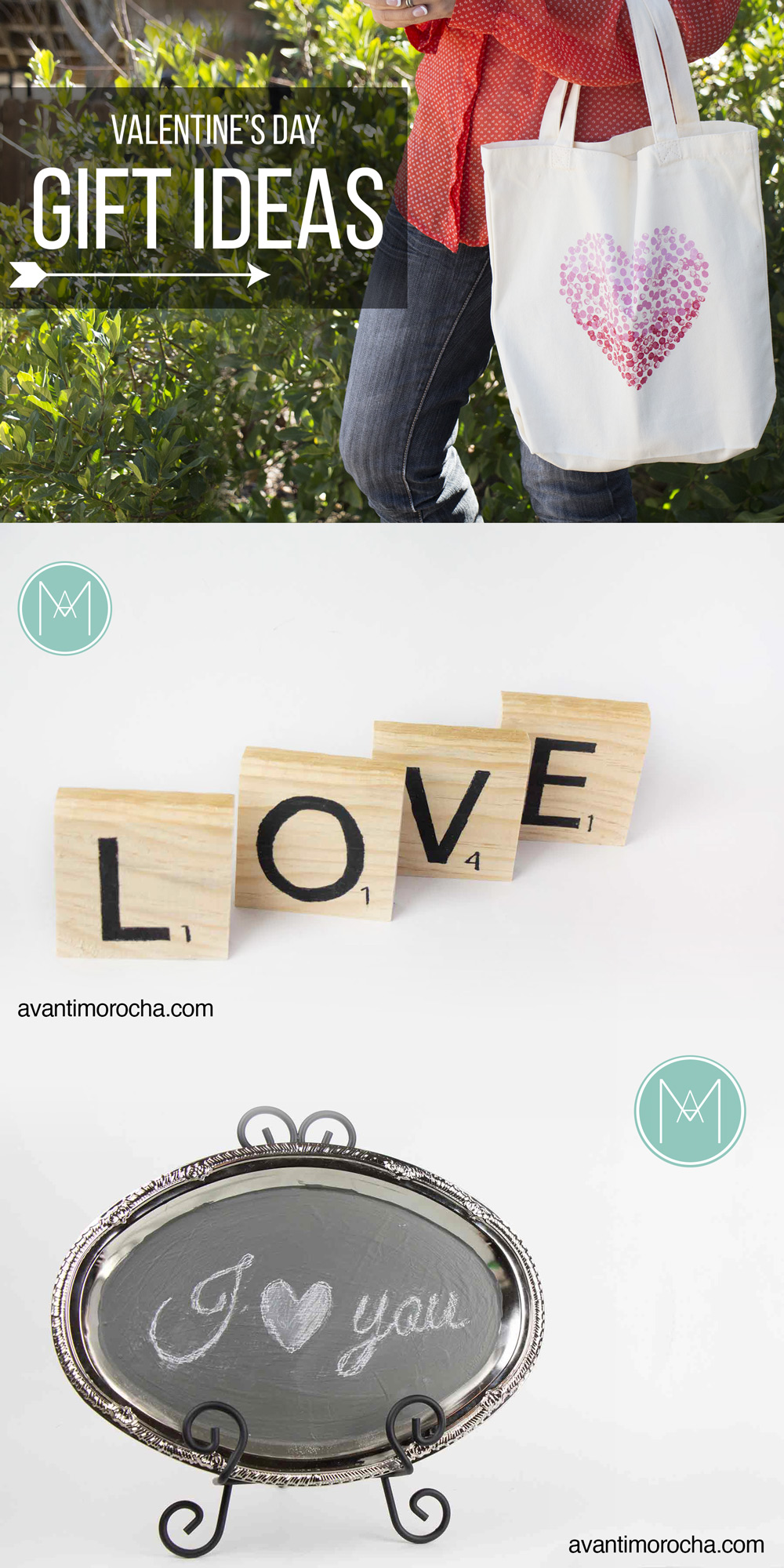 WATCH THE VIDEO TUTORIAL WITH ENGLISH SUBTITLES
If you liked this post, I'd so appreciate your pins and shares! If you make any of these gifts, please share a pic on my Facebook page or tag me on Instagram. I'd love to see it.