Este mes tenía en mente para hacer una decoración de casa DIY para San Valentín. Mi objetivo es siempre hacer manualidades que estén en el presupuesto y que luzcan muy lindas. No estaba segura que material utilizar.
En un momento pensé que tal vez podía usar filtros de café, de la misma manera que hice uno de mis post más popular el "Número con filtros de café" y hacer un corazón con una gradiente de color pero al final me decidí a utilizar papel Kraft. Yo prefiero un color beige neutro para la decoración de mi hogar en vez de un corazón rojo o rosa, que son los colores más tradicionales de San Valentín, pero como dice el dicho dice "en gusto y colores no han escrito los autores". El papel Kraft es bastante asequible su precio oscila entre $ 1- $ 3 para un rollo de (76 cmx 4.5metros) dependiendo de dónde lo compras. He utilizado un rollo completo para este proyecto. Yo sabía que para complementar el corazón quería colocarlo sobre un marco un marco antiguo de ventana, traté de encontrar uno, pero yo no tuve suerte, usted puede encontrar uno de estos marcos en una venta de garaje o en el mercado de pulgas. A mi me gusta ir al mercado de pulgas por desgracia el más cercano a mi casa casi una hora de distancia. Fui al Home Depot para comprar madera para hacer el marco. Recuerdo la última vez que estuve allí mi esposo me mostró que también venden resto de madera, lo que es ideal para personas como yo que nos gusta hacer DIY y que por lo general sólo necesitamos pequeñas piezas de madera. Pos si acaso los retazos de madera por lo general tienen 70% de descuento. Todas las piezas para hacer el cuadro me costaron alrededor de $4 y mi esposo me hizo marco. Este es un DIY fácil, pero es laborioso, sin embargo el tiempo que una demora vale la pena al producto final que se obtiene. Espero que les guste este DIY y si lo haces, por favor comparto una foto conmigo en mi página de Facebook o me etiquetar en Instagram.
---
This month I've been wanting to make a DIY Home décor for Valentine's. My objective is always to make something beautiful but on a budget. I wasn't sure what material to use and while I was considering coffee filters, the same way I made the "Number with coffee filters", I decided to use Kraft paper. In this DIY I preferred a neutral beige for my home décor, instead of the more traditional colors for valentines, but like the saying goes "there's no accounting for taste". Kraft Paper, also known as mailing paper, is really affordable; I've found the price to range between $1-$3 for a roll of (30"x15') depending where you buy it. For this DIY I used a whole roll. I knew that to complement the heart I wanted to place it over an old window frame. You can find one of these frames in a garage sale, flea market, or even in some junk laying around sadly I tried to find one around town but I wasn't lucky. so instead of using an old frame I went to the Home Depot to buy wood to make the frame. Last time I was there my husband showed me they sell scrap wood, which is normally 70% off and is great for DIY people like me. I spent about $4 on some scrap, and my husband built the frame. This is an easy DIY and while it's time consuming, its worth the effort. I hope you like this DIY and if you make it, please share a pic with me on my Facebook page or tag me on Instagram.
Materiales
Cartón pluma o cartón regular
Papel kraft
Cinta
Tijera
Pistola de silicona
Marco de madera
Opcional pintura dorada
Supplies
Foam board or cardboard
Kraft paper
Ribbon
Scissors
Hot glue
Wooden frame
Optional: gold spray paint
Descarga el archivo del corazón y el circulo abajo. Download the heart and circle  files here below.
Corazon_archivos  / Heart-project_files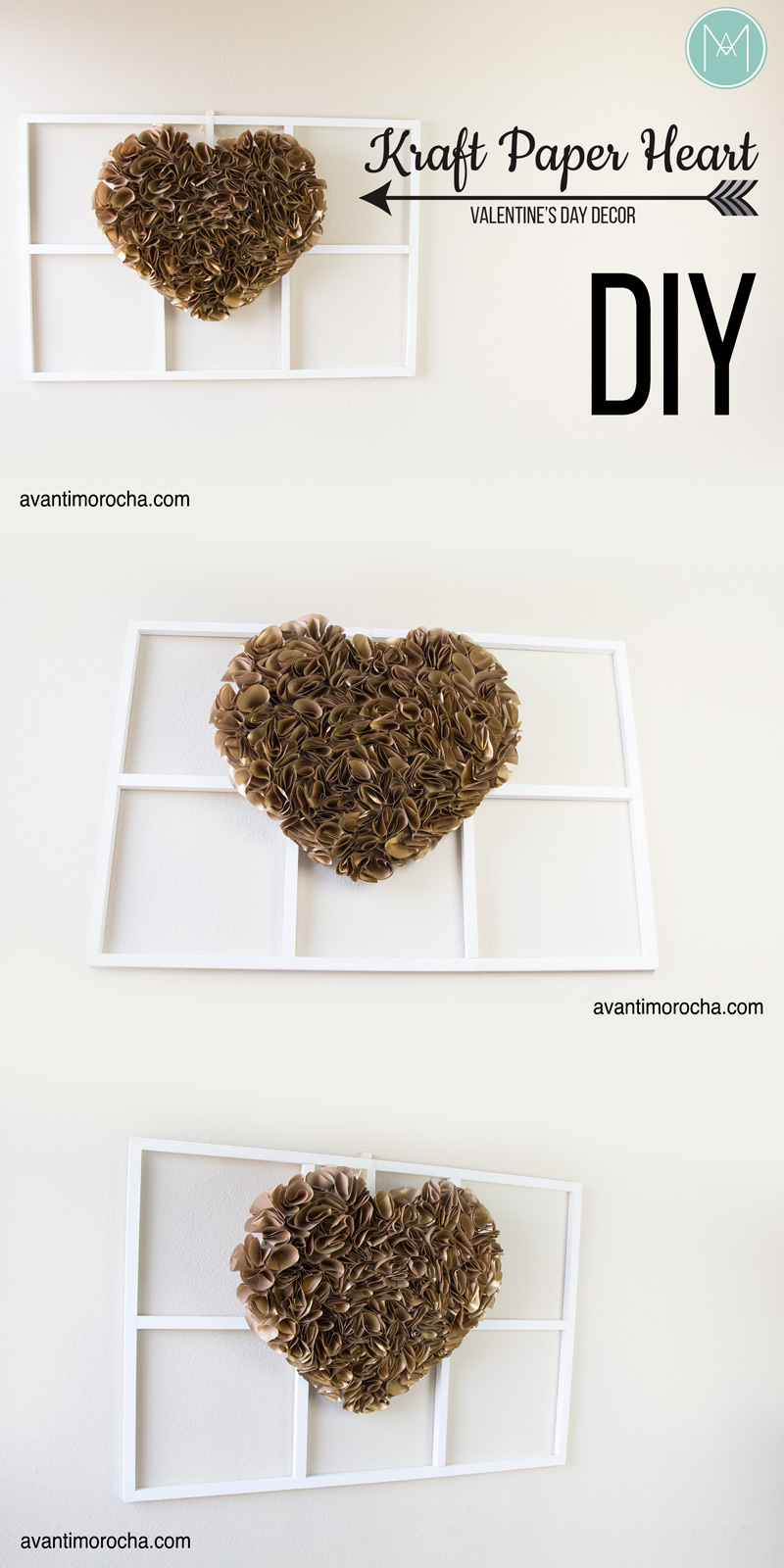 WATCH THE VIDEO TUTORIAL WITH ENGLISH SUBTITLES
If you liked this post, I'd so appreciate your pins and shares! If you make this DIY Kraft Paper Heart please share a pic on my Facebook page or tag me on Instagram. I'd love to see it.