Tenía este proyecto en mente hace varios meses, al comienzo tenía pensado hacerlo usando flores de papel pero no tuve mucho tiempo así que use flores artificiales.
Pero sin importar el tipo de flores que usen estoy segura que este proyecto les quedará muy lindo. El plato y la taza los compre de la tienda de segundo uso, no puede encontrar el juego de taza y plato del mismo set, pero encontré dos muy similares. Como se puede ver en el video tutorial del proyecto es muy fácil, yo utilicé flores artificiales pero ustedes pueden usar flores naturales o de papel. Este arreglo puede ser el regalo perfecto para el día de la Madre o también lo pueden usar como decoración de hogar o fiestas. Si haces el arreglo floral por favor no te olvides de compartir una foto en mi página de Facebook o etiquetar mí en Instagram Me encantaría verlo.
---
I've had this project in mind for a while. I was planning to make it using paper flowers but I ran out of time so I ended up using fake flowers regardless of the types of flowers used this project is going to look beautiful. As you'll see in the video tutorial the project is really easy, I used artificial flowers but you could use natural or paper flowers. The teacup and plate came from a thrift store, they weren't from the same set but they look like they were. This flower arrangement can be the perfect gift for Mother's Day or you can use it as home or event décor. If you make this teacup flower arrangement please don't forget to share a pic on my Facebook page or tag me on Instagram I'd love to see it.
Download the gift tags here / Descarga las etiquetas aqui
Materiales
Tacita de te y plato
Flores artificiales
Espuma floral
Alicate, cortador
Pistola de silicona
Supplies
Teacup and plate
Artificial flowers
Floral foam
Pliers/ X-acto knife
Glue gun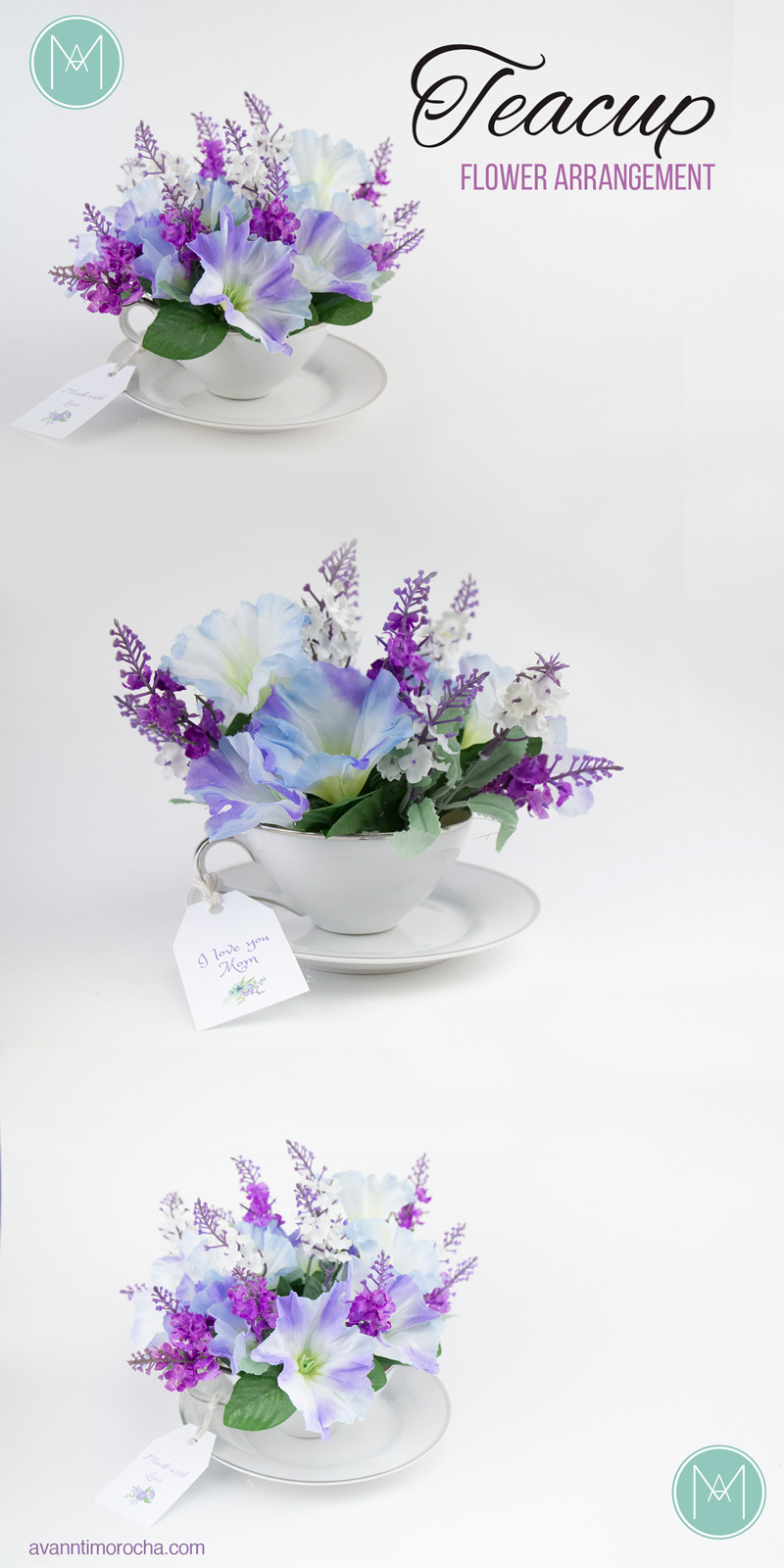 WATCH THE VIDEO TUTORIAL WITH ENGLISH SUBTITLES
If you liked this post, I'd so appreciate your pins and shares! If you make this flower arrangment, please share a pic on my Facebook page or tag me on Instagram. I'd love to see it.