I love making DIY party décor, especially when it's wedding related. Glass signs have recently became incredibly trendy and now I understand why, they look aaaa–mazing!!This is a super easy DIY which anyone can make. You can download the sign I made for this tutorial or make your own. You only need to look for a font that you like, a good place to find free font is googlefonts. If you're looking for something a little more custom and would like an individualized design, send me a message on Etsy and I'd be happy to give you a quote for the perfect design for your sign.
I hope you like this project as much as I do and if you make it don't forget to share your pics on my Facebook page or tag me on Instagram I'd love to see it.

Como saben le tengo un especial cariños a proyectos de decoración de eventos, especialmente de bodas. Este año las señales de vidrio han sido el boom! en lo que se relaciona a decoración de eventos, y ya entiendo el porque. Estas señales lucen maravillosas. Este DIY es muy fácil y cualquiera lo puede hacer, puedes descargar la imagen que use en el ejemplo o hacer tu propio diseño. Lo único que tienes que hacer es buscar una fuente que te guste. Un buen lugar para encontrar fuentes lindas y gratuitas es googlefonts. Si tienes alguna dificultad diseñado siempre puedes hacer un pedido personalizado como descarga digital en mi tienda Etsy, el cual puedes usar para trazar la señal.
Espero que este DIY te haya gustado tanto como a mi, si lo haces no te olvides de compartir una foto en mi pagina de Facebook o etiquetame en Instagram.
CLICK HERE TO DOWNLOAD THE SIGN| DALE CLICK AQUI PARA DESCARGAR LA SEÑAL. 
Recycled or thrift store picture frame
Optional (spray paint and black wax)
Materiales
Marco reciclado o de segundo uso
Opcional, pintura en spray y black wax
*Amazon associate links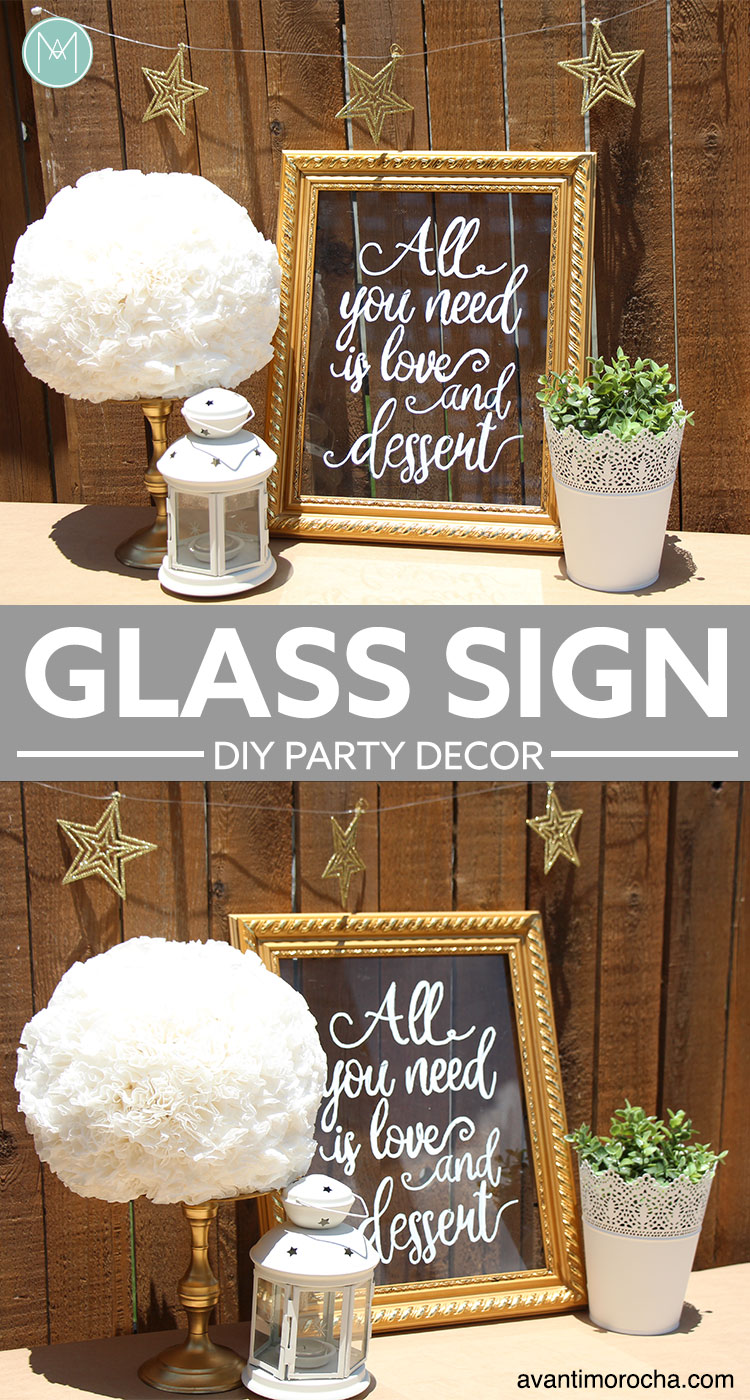 WATCH THE VIDEO TUTORIAL

If you are curious about the coffee filter topiary, click the link below to see how I made it. Si te preguntas cómo hice el topario que vez en la foto dale click al link debajo.
Coffee filter topiary | Topario de filtros de cafe