Yo adoro este postre peruano, me la enseñaron cuando me mude a USA, me parece re fácil, aunque batir las claras puede ser un poquito complicado, especialmente que no se te bajen cuando agregas el azúcar. Esta es la forma que yo aprendí a hacer el pie de limón, por favor no se molesten si para ustedes no es la original, a mi me gusta y me parece fácil, así que si les gustaría aprender algo rico y fácil prueben con esta receta.

Actualizacion: Hace poco viendo algun video escuche que para evitar que el merengue se baje es bueno usar cremor tártaro, lo intente esta vez y si funciono 🙂
I learned this recipe when I moved to the USA, my Peruvian friend share with me this super easy recipe. Hope you like it.
Update: If you have any problem keeping the meringue's shape use ½ tsp of cream of tartar. It really works well.
Ingredientes
• 1/4 taza de jugo de limón
• 1 paquete de galleta honey Graham crackers
• 4 huevos
• 1 lata de leche condensada
• 1 barra de mantequilla
• ralladura de limón
• 1/4 taza de azúcar blanca
• ½ cdta de cremor tártaro (para que las claras )

Ingredients
• ¼ cup of lime juice
• 1 pkg of honey Graham crackers (7oz)
• 4 eggs
• 1 can of condensed milk
• ¼ cup of butter
• Lime zest
• ½ cup of sugar
• ½ tsp of cream of tartar (for white eggs)

Para la base solo necesitamos estrujar las galletas hasta q esten como polvo, y mezclarla con la mantequilla derretida ( pongan la mantequilla en el micro por 30 seg). Despues de mezclarlo bien colorcarlo en el molde.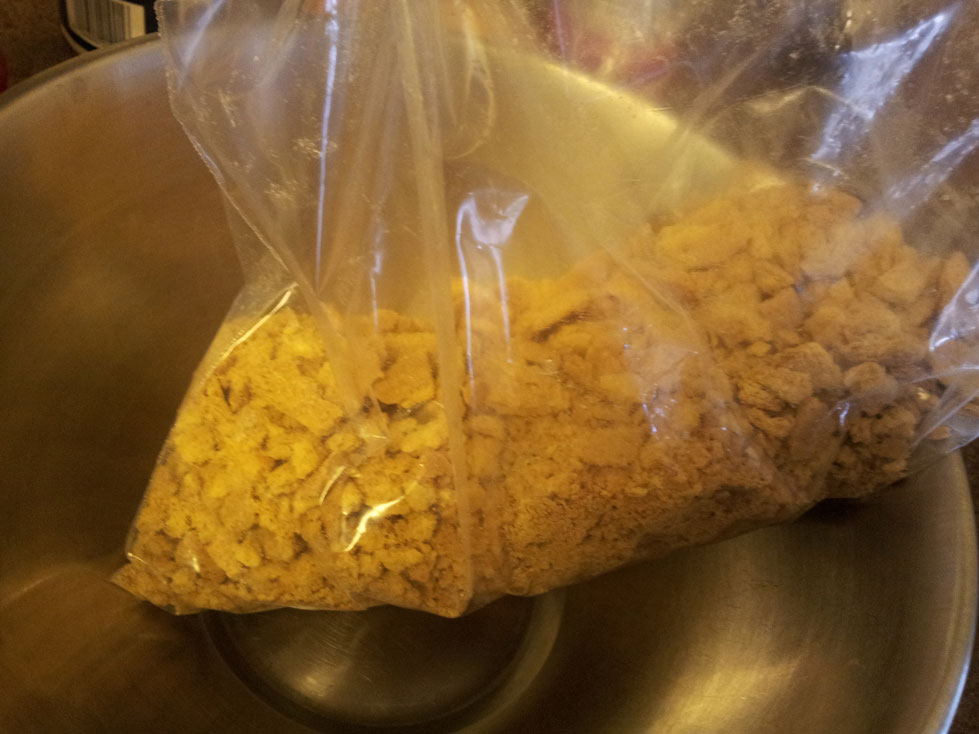 Para el relleno colocamos en un recipiente las yemas de los 4 huevos y la leche condenzada y comenzamos a mezclar luego agregamos el jugo de limon poco a poco mezclando todo al final agregamos la rayadura del limon, colocamos esto encima de las galletas.  Lo ponemos al horno por  Hornear 15-18min a 350 F.
Unos 5 min antes de sacarlo del horno comenzamos a batir las 4 claras a punto nieve y agregamos poco a poco el azucar blanca. Sacamos el pie del horno y le colocamos las claras , podemos usar un tenedor para generar picos para q se vea mas bonito. Bajamos la temperatura del horno a 200 F y volvemos a colocar el pie al horno por unos 15 min mas esto hace q la clara se cocine bien. Despues de pasar los 15 min abrimos el horno cambiamos el horno a broil ( q es cuando solo la parte de arriba del horno esta caliente) Con la puerta del horno colocar el pie hasta q coja un poco de color esto no tomas mas que unos 30 segundo. Tengan mucho cuidado de no quemarlo a mi alguna vez ya me paso. Y listo 🙂
Super facil pie de limon bien PERUANO

WATCH THE VIDEO TUTORIAL WITH ENGLISH SUBTITLES
If you liked this post, I'd so appreciate your pins and shares! If you make this pie please share a pic in my Facebook page. I'd love to see it.