One of my favorite things to do, at least once a month, is going on a treasure hunt around at a couple thrift stores. I don't normally find thrift store pieces that are home décor ready, but you know me, I'm always up for a good challenge.
I got these vintage book holders which I had originally thought I would spray-paint and be done with. However, I recently watched a video where they recommend using "Bar Keepers Friends" to clean the brass so I figured I'd try something new on this thrift store adventure. Being really skeptical of this $2.48 product, I have tried to clean a couple of things to see how it worked before diving headlong into my thrift store treasures (Spoiler alert, it didn't). While I was even more skeptical than before I decided to storm-off and clean the brass bookends and I'm really happy I did. They came out better than I could have imagined.
I'm using the rabbit for my Easter décor; I placed them inside a lantern from of Hearth & Hand™ with the Magnolia Collection from Target. To give it a little more pop, I placed some moss, pieces of wood, decorative eggs, paper succulents and the, of course, the rabbits. Doesn't this décor look like is from the PB catalogue?
For the planter, I also used a paper succulent which I made using my tutorial as found on my Etsy shop. As you'll see in the video, these DIY projects were incredibly easy and gave a lot of new life to some old, forgotten, pieces.
I hope you've liked this video and that it gives you ideas on how to use thrift store pieces for your home decor.


Una de mis actividades favoritas es ir por lo menos una vez al mes en búsqueda de un tesoro alrededor de las tiendas de segunda mano. Normalmente no encuentro piezas que estén listas para mi decoración, pero solo necesitan un pequeño makeover para que pueda usarlas. Cuando compre los sostenedores de libros pensé que iba pintarlos con pintura spray. Sin embargo, recientemente vi un video en el que recomiendan utilizar "Bar Keepers Friends" para limpiar el brass, así que pensé que le daría una oportunidad. La verdad estaba realmente escéptica con respecto a este producto pero como solo costaba $2.48 decidí intentar. Quede completamente sorprendida, este producto si funciona!
Estoy usando los conejos para mi decoración de Pascua; Los coloqué dentro de una linterna de Hearth & Hand ™ de la Colección Magnolia de Target. Para darle un toque más interesante, puse musgo, pedazos de madera, huevos de pascua decorativos, suculentas de papel y, por supuesto, los conejos. ¿Díganme si no parece una decoración sacada del catalogo de PB? Para la maceta, también utilicé una suculenta de papel, los moldes de esta están en mi tienda Etsy y el tutorial lo puedes ver aquí. Como verás en el video, estos proyectos fueron increíblemente fáciles y le dieron mucha vida a estas piezas antiguas y olvidadas. Espero que te haya gustado este video y que te hayan dado ideas sobre cómo usar las piezas de la tienda de segunda mano para la decoración de tu hogar.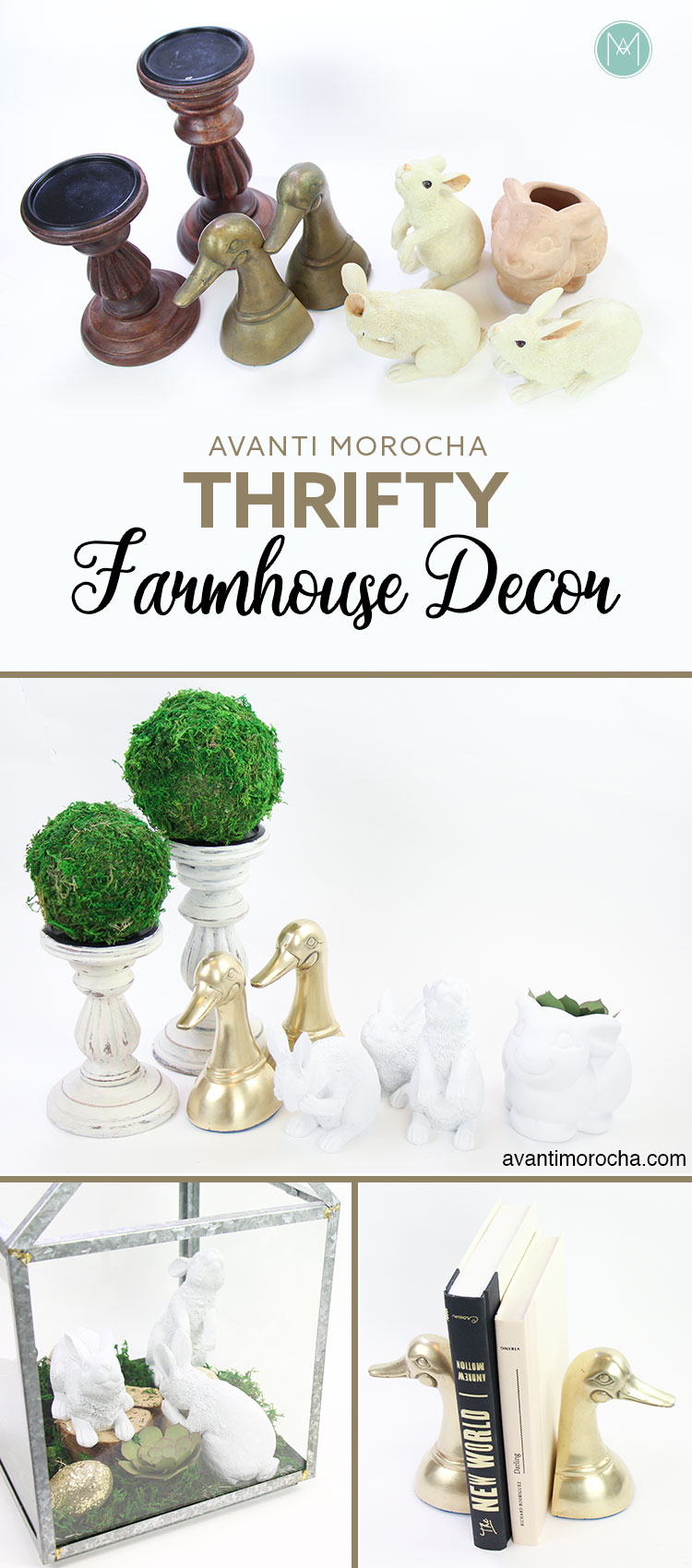 WATCH THE VIDEO TUTORIAL