I decided to make these wood signs when I was looking to decorate the industrial shelves my husband made for our master bathroom remodel. I thought about buying something similar on Etsy, but after realizing I already had all the material on hand I decided to simply make my own signs.
As you'll see in the video I've made these signs using two different techniques. The first one is using a regular inkjet printer and the second is using a cutting machine (Cricut) to make the templates. For the cutting machine method, I used freezer paper to create the templates because it's super affordable and I already had it home; I could've used vinyl as well if I had it and wanted to. The only material I didn't have on hand was transfer tape, but I replaced that with simple masking tape. If you don't have transfer tape on hand, masking tape works great, but watch the video for tips and tricks on getting masking tape to work just right. You should know that using actual transfer tape is easier and faster but if you're only making one or two signs, it may not be worth it.
You can download the designs for these signs HERE. If you want a custom design you can order one on my Etsy shop
I hope you liked this DIY and if you make it don't forget to share a pic on my Facebook page or tag me on Instagram. I'd love to see it.


Decidí hacer estas señales cuando estaba buscando como decorar el estante industriales que mi esposo hizo para nuestro baño. Pensé en comprar una en Etsy, pero después de darse cuenta de que ya tenía todo el material en la mano, decidí simplemente hacer mis propias señales.
Como verás en el video he hecho estas señales usando dos técnicas diferentes. La primera está utilizando una impresora a tinta y el segundo es usando una máquina de corte (Cricut) para hacer las plantillas. Para el método de la máquina de corte, he utilizado freezer paper para hacer las plantillas, ya que es muy asequible y ya lo tenía en casa; Puedes usar vinyl también si lo deseas. El único material que no tenía a mano era la cinta de transferencia, pero la reemplacé con cinta adhesiva masking. Si no tiene cinta de transferencia en la mano, la cinta masking funciona muy bien, pero asegúrate de ver el video para ver como hacer que funcione de manera mas sencilla. Definitivamente usando la cinta de transferencia las el proceso es mas sencillo, pero si sólo está pensando hacer uno o dos signos, puede no valer la pena gasta en un rollo de cinta de transferencia.
Usted puede descargar los diseños de las señales AQUÍ. Si deseas una señal personalizada puedes ordenarla en mi tienda de Etsy.
Espero que te haya gustado este bricolaje y si lo haces no te olvides de compartir una foto en mi página de Facebook o me etiqueta en Instagram. Me encantaría verlo.
Supplies
Wood scraps
Freezer paper
Chalk Paint
Stain
Acrylic paint
Brushes
Scissors
Gorilla glue
Iron
Materiales
Pedazos de madera
Freezer paper
Chalk Paint
Mancha de Madera
Pintura acrílica
Brochas
Tijeras
Pegamento
Plancha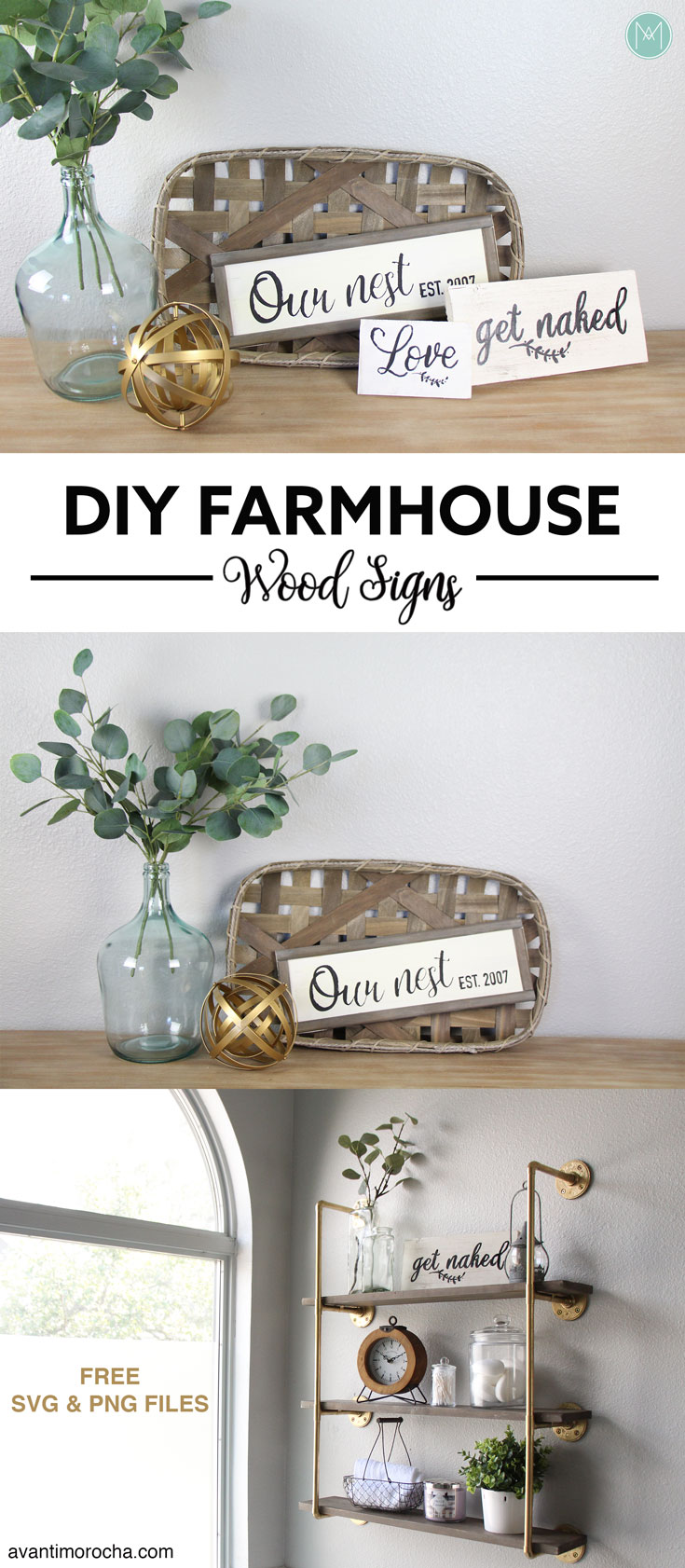 WATCH THE VIDEO TUTORIAL