I can finally say we're "officially" done with the master bathroom remodel… Yuppie!!! We have been using the shower for about two months now and a couple of weeks ago we finally finished the vanity using beautiful wall-mounted faucets. You can read more about the installation of these fixtures HERE.  The finishing touches are being completed and you can expect the final reveal soon, so stay tuned.
While I am SUPER excited we've completed this project, I wish the process of remodeling a bathroom was as easy as picking the fixtures for it; go to the Delta "shower-experience" page, point click, magic! Sadly that's not the case. From the beginning, my husband insisted on using high-quality fixtures for our wall-mounted faucets. He droned on about they'll cost a fortune should they leak in the wall if we go with poor quality fixtures. He insisted that if we do this we're going with wall mounted fixtures we needed to use a trusted company and there was no changing his mind. If you're reading this and wonder why I'd take plumbing advice my software developer husband. Kevin knows a lot about plumbing, his dad is a plumber, his grand father was a plumber, and when Kevin was younger he too worked as a plumber at his father's company. So when it comes to the craft of plumbing, he knows what he's talking about. As I searched for the perfect fixtures, he pointed me in a few directions and steered me away from even more. After what seemed like an eternity of back and forth bickering about fixtures he was all but flabbergasted when I told him that Delta was going to be one of my sponsors for this bathroom remodel.
I'm really happy with our decision to use Delta Faucets and I'm blown away by their professionalism as partners. This project took a couple months longer than expected but they stuck by us, giving us time to complete the project and get it right. We chose to use Delta products because of their quality and we would've used their products regardless of their sponsorship however they did and we couldn't be happier. They provided many of the trims and a couple of the valves we used throughout the project.
The color palette for the new bathroom was white, gray, and brass/gold. While these colors are wonderful together getting the right trim for everything was not as easy as I had expected. When I was looking at fixtures for our bathroom I found the Delta website and I fell in love almost immediately. Their web site is pretty user-friendly and was the answer the difficulty I had before. As I've said, I'm a very graphic person, which means I like to see, touch, and imagine what things will look like. I need to paint the bigger picture in my mind's eye and simple visual queues really help me fully grasp everything that is happening. For the designer types out there as well as the visually and graphically inclined, the Delta website brings everything together in an easy to understand simple to use package. Check it out for yourself, it's kinda awesome https://www.deltafaucet.com. As I was navigating around the Delta site building the bathroom of my dreams, I discovered the beautiful Champagne Bronze finish and it was love at first sight.

Por fin puedo decir que "oficialmente" terminamos la remodelación del baño principal … Yuppie !!! Ya hemos estado usando la ducha durante unos dos meses y hace un par de semanas finalmente terminamos el vanity y colocamos los hermosos caños empotrados. Usted puede leer más sobre la instalación de estos caños AQUÍ. Estos trabajando en los detalles finales y ya muy pronto les haré el recorrido por el baño así que estén atentas.
Mientras estoy SUPER feliz que hemos completado este proyecto, me gustaría que el proceso de remodelación del baño hubiera sido tan fácil como elegir los accesorios para él, simplemente ir a la página web de Delta Faucet y hacer click, click y listo. Lamentablemente, ese no fue el caso. Desde el principio, mi esposo insistió que si quería caños empotrados teníamos que utilizar caños de una buena marca. El me dijo tenemos que usar algo bueno para evitar cualquier tipo de fuga en la pared, porque si tu estas pensando en ahorrar en tus caños empotrados terminarás gastado una fortuna en reparaciones, así que es mejor usar accesorios de buena calidad. Si estás leyendo esto y te preguntas porque escucho a mi esposo, que sabe un Ingeniero de Sistemas de plomería, bueno Kevin sabe mucho, su papa es plomero, su abuelo también lo fue, y cuando Kevin era más joven también trabajaba como plomero en la compañía de su padre. Así que cuando se trata de plomería, él sabe lo que está hablando. Mientras buscaba los accesorios perfectos, el me dio unas pautas a seguir. Después de lo que parecía una eternidad de ida y vuelta investigando sobre los accesorios, él se puso muy contento cuando le dije que Delta iba a ser uno de mis patrocinadores para esta remodelación del cuarto de baño.
Estoy muy feliz con nuestra decisión de usar Delta Faucets y estoy impresionado por su profesionalismo como colaboradores. Este proyecto tomó un par de meses más de lo esperado, pero ellos fueron bastante comprensivos, dándonos tiempo para completar el proyecto y hacerlo bien. Elegimos utilizar los productos de Delta debido a su calidad y habríamos usado sus productos sin importar su patrocinio sin embargo lo hicieron y no podríamos estar más felices. Delta nos proporcionó muchas de los caños y un par de las válvulas que utilizamos durante todo el proyecto.
La paleta de colores para el nuevo cuarto de baño era blanco, gris y brass / oro. Mientras que estos colores son maravillosos juntos conseguir la combinación perfecta para todo no era tan fácil como había esperado. Cuando yo estaba buscando accesorios para nuestro baño encontré el sitio web del Delta y me enamoré casi inmediatamente. Su sitio web es bastante fácil de usar y fue la respuesta a la dificultad que tenía antes. Como sabrán, soy una persona muy gráfica, lo que significa que me gusta ver, tocar, e imaginar cómo serán las cosas. Si tu eres una persona como yo la página web de Delta te va ayudar bastante. Compruébelo tu mismo, es algo increíble [https://www.deltafaucet.com]. Mientras navegaba por el la página web de Delta construyendo el baño de mis sueños, descubrí el hermoso acabado Champagne Bronze y me enamore.
---
Let's talk about the details of what we installed. First up, the shower. We decided to go with the Multi-Function shower valve with Temp2O trim, cross handles, and an In2ition® shower head. My husband was the happiest man ever when he installed this shower! As mentioned before, in one of my previous posts, he really enjoys LONG showers. I have to admit that I also love this shower but not as much as he does; it's definitely the best shower we ever had. While we've had Delta Shower heads before, nothing compares to the new technologies we have now. The Temp2O shower valve has a digital readout on the temperature and changes colors when it's hot. With our new ability to tell what the temperature is I can now confirm that my husband does, in fact, cook himself while showering. As for the In2ition® multi-function showerhead, some may see this as a gimmick, however, I'm here to tell you that it's anything but. You can use the shower hand held and head at the same time and the pressure is wonderful. The hand held makes it easy to clean the shower and the flow diverter is nice for a boost in pressure but we typically find the 50/50 split has plenty of pressure to go around.
Ahora déjenme contarles un poco mas de los acabados en detalle. En primer lugar, la ducha. Decidimos ir por Multi-Function shower valve with Temp2O trim, cross handles, and an In2ition® shower head. Mi esposo era el hombre más feliz cuando instaló esta ducha! Como les mencione anteriormente en uno de mis post mi esposo adora las duchas largas. Tengo que admitir que también me encanta esta ducha pero no tanto como él. Esta es sin duda la mejor ducha que hemos tenido. Anteriormente hemos tenidos duchas de Delta pero nada se compara con las nuevas tecnología de las nuevas duchas. La válvula de ducha Temp2O tiene una lectura digital de la temperatura y cambia los colores cuando está caliente. Ahora puedo confirmar que mi no le gusta bañarse sino cocinarse. En cuanto a la ducha multifunción In2ition es genial porque puede remover el mango de la ducha y usarla independientemente o juntas, son dos cabezas en una.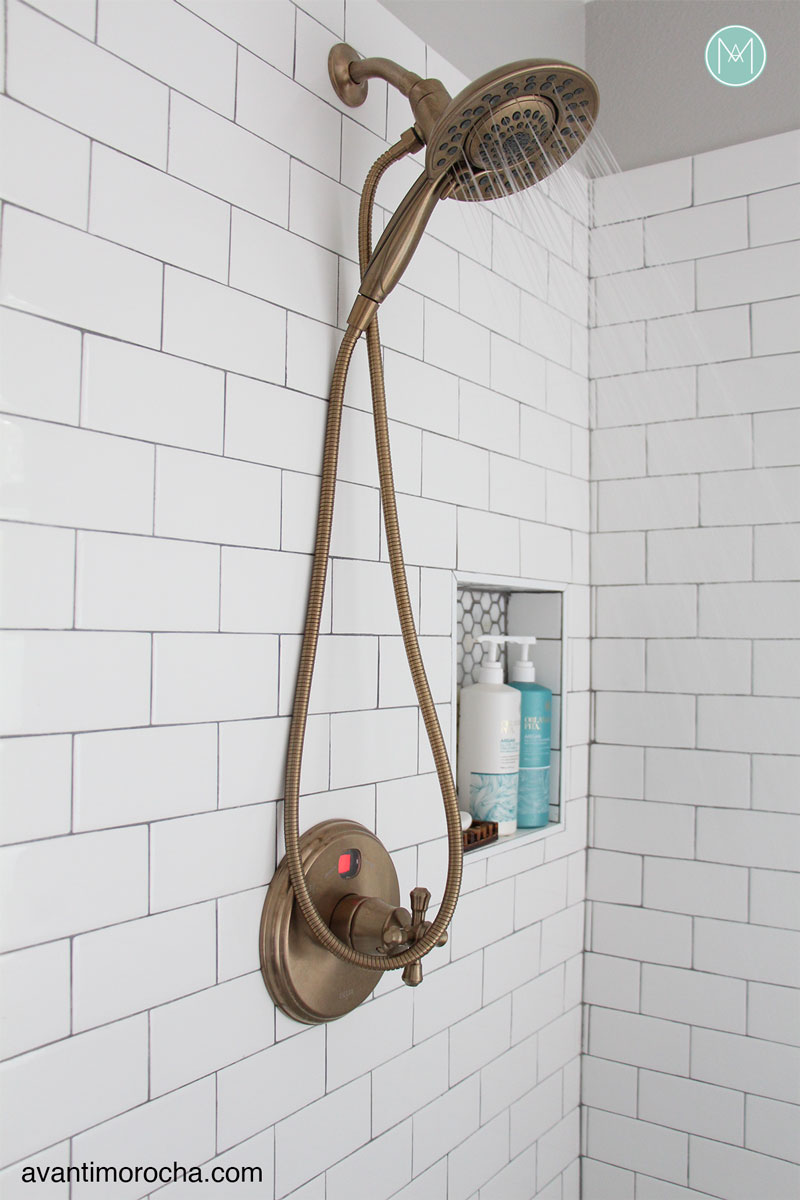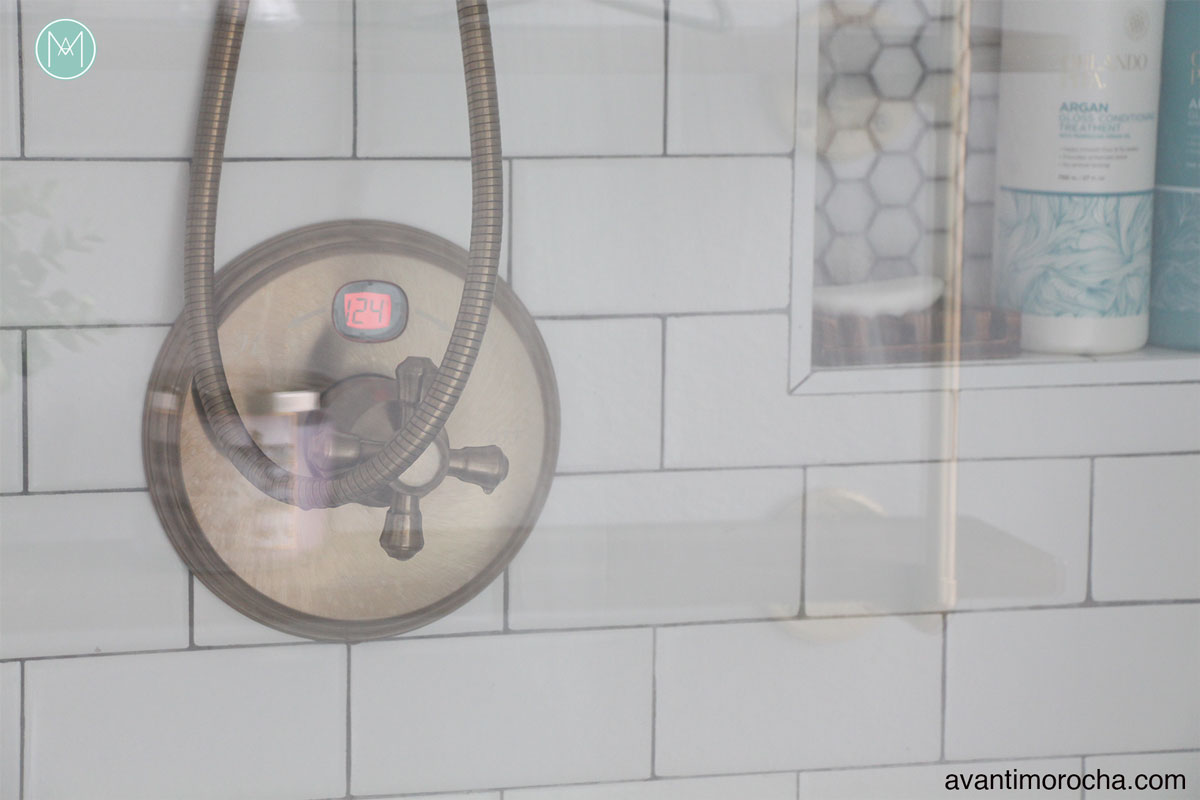 I could write about the tub fixture forever. It's big, it's beautiful, and in a word it's gorgeous. This valve, by itself, gives our boring soaker tub a much-needed facelift. When we were knee deep in demolition I want to get rid of our basic soaker tub and install a free standing one with a floor valve; I REALLY wanted the turn of the century farm house tub but my husband convince me that it was so much work and that our boring old tub was in good condition; he played the card he knows works the best and pulled on my environmental heart strings "Protect the environment don't add more waste to the landfilled". While I capitulated, I know he just didn't want to deal with lifting a cast-iron tub to the second floor of our home (lazy bones). In the end, I think we made the right decision as our old boring ugly soaker tub turned into a beautiful swan. It only took a touch of framing, a dab of tile, and an amazing Cassidy Roman tub valve. It's like the perfect set of earrings matched to a beautiful dress as the space is pulled together in ways I would not have originally thought possible.
Podría escribir sobre el accesorio de la tina para siempre. Es grande, es hermosa, y en una palabra es magnífica. Esta válvula, por sí sola, da a nuestra bañera sin estilo un nuevo look. Cuando comenzamos la demolición yo quería deshacerme de la tina y instalar una con patitas, pero mi esposo me convenció que no, porque me dijo que era mucho trabajo, que había que cambiar las instalaciones en el piso, reforzar el piso y que no tenia mucho sentido cambiarla, ya que la ducha que teníamos era feíta pero estaba en muy buenas condiciones. Kevin sacó la carta de la manga, la cual es mi lado ecológico, me dijo evita crear mas basura y usemos lo que ya tenemos. Aunque estoy mas que segura que la razón por la que Kevin no quería una ducha nueva es pensar que tendría que cargarla al segundo piso. Al final, creo que tomamos la decisión correcta, ya que nuestra vieja y aburrida bañera se transformó de patito feo a cisne. Sólo tomó un toque de enmarcado con las mayólicas y el caño de tina de la serie Cassidy. Fue como crea el outfit perfecto donde los mayólicas son el vestido y los caños son los aretes.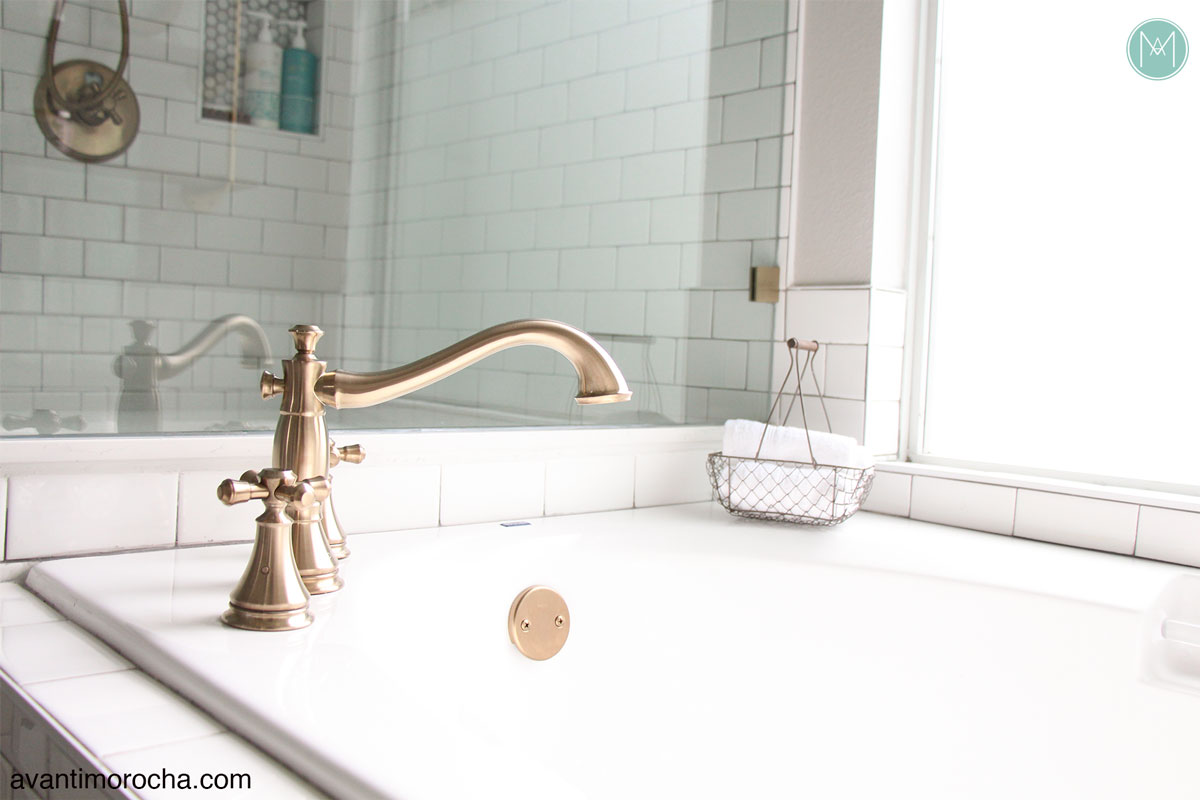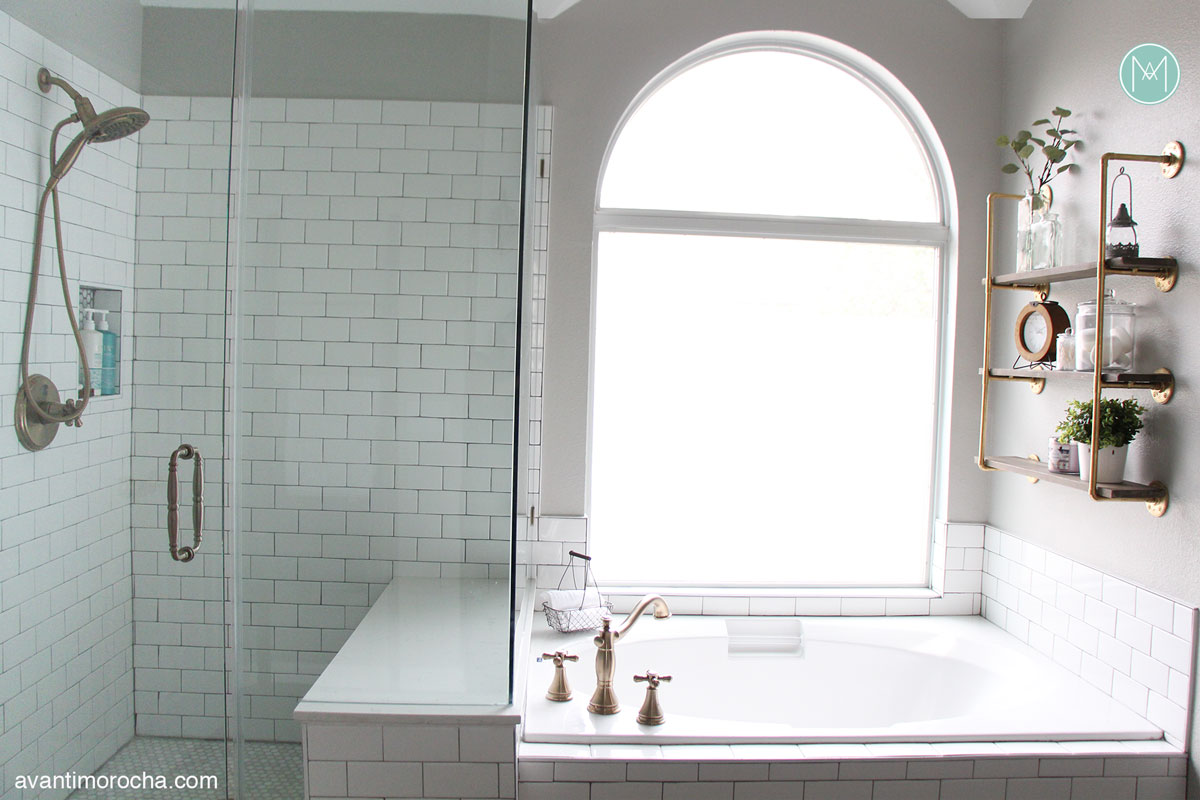 Last, but definitely not least, is the vanity. It's gorgeous and made more lovely by the Cassidy wall mounted lavatory faucets with lever handles. We've been using the vanity with these faucets for around a month and I have to say, they are truly wonderful. The wall-mounted faucets give us our farmhouse appeal with a touch of Europe; when we're in the bathroom it's hard to believe this was nothing more than a track home bathroom a couple months ago. The vessels and custom vanity work we did highlight the focal point, the faucets, which are exquisite. The engineering involved in making these timeless pieces is ever present in the touch, feel, and flow and I couldn't be happier using them every day. I've said this before but, Installing wall mounted faucets is a lot of work, more so than I could have originally imagined, however doing it right, with a quality product, is priceless.
Por último, pero definitivamente no menos importante, son los caños empotrados en la pared de la línea Cassidy. Hemos estado usando estos grifos por alrededor de un mes y tengo que decir, que son realmente maravillosos. Esos caños le dan un estilo muy especial al baño. Es impresionante pensar que hace unos cuantos meses este baño lucía completamente distinto ahora es un baño único y personalizado con mucho carácter. La colocación de grifos empotrados no es fácil pero todo el trabajo vale la pena.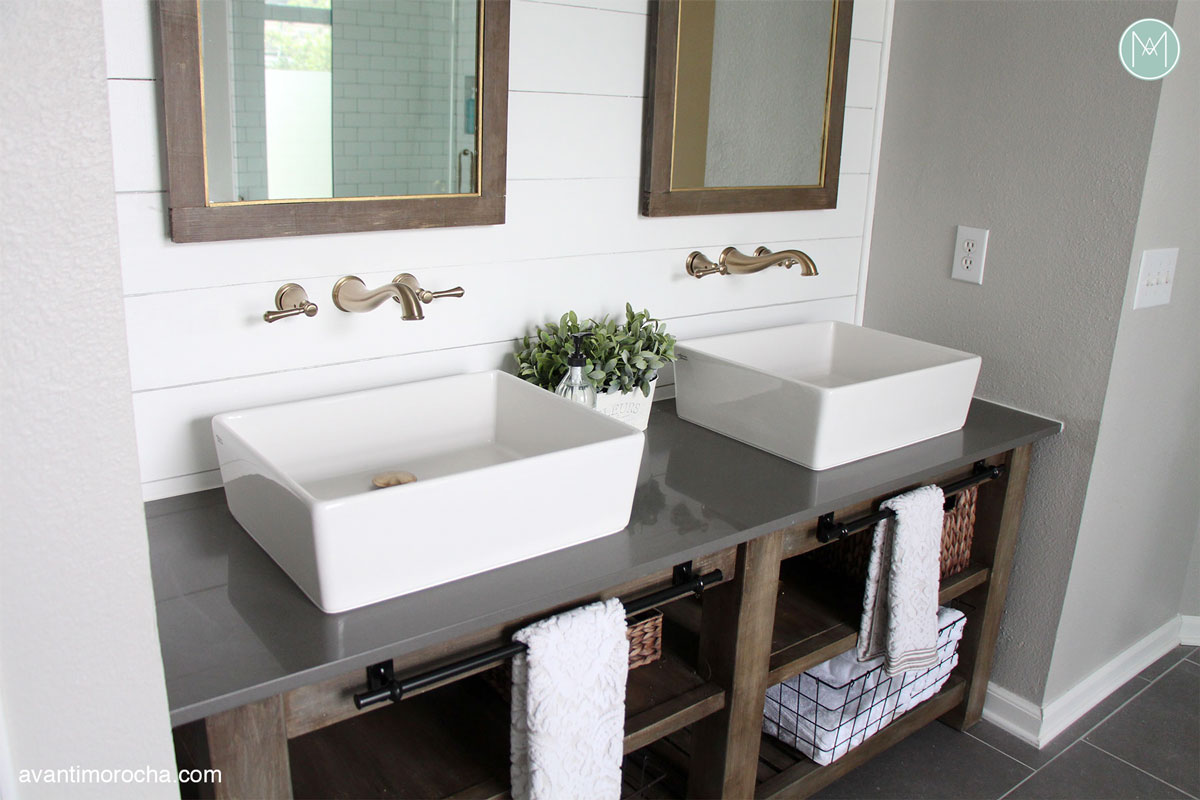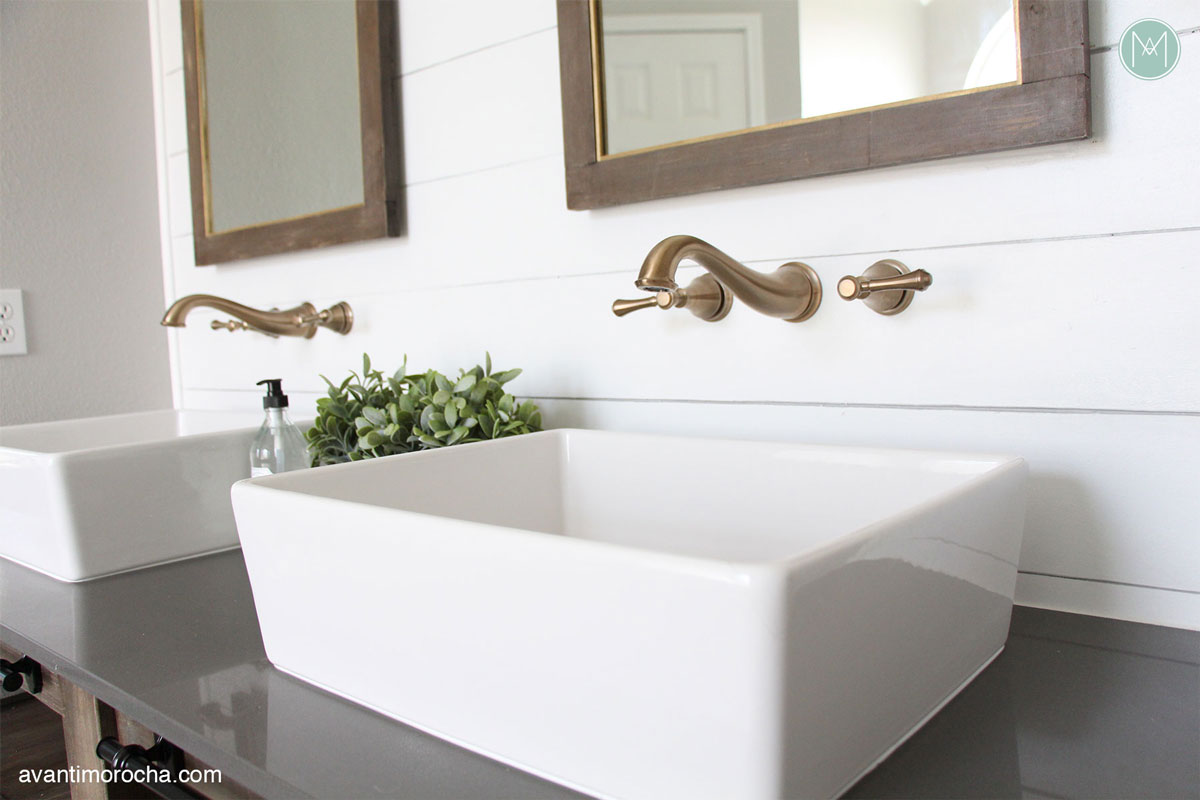 I hope this project inspires you. If you have any questions or want to leave a general comment please do so, I'd be happy to answer all of your questions. If you're thinking about doing a remodel like this, or something similar, and are on the fence about it, I say do it. It's quite an experience and while it may take some time, a couple arguments, and a bit of luck, it's totally worth it.
Espero que este proyecto te inspire. Si tiene alguna pregunta o desea dejar un comentario hazlo, estaré encantada de responder a todas sus preguntas. Si tu está pensando en hacer una remodelación como esta, o algo similar, y estás indecisa yo te animo. Es bastante trabajo y van a ver un par de discusiones, peor estoy segura que no te arrepentirás.

If you want to check the different phases of the bathroom remodel click below.
Si desea puedes ver las diferentes fases de la remodelación de nuestro baño principal, haga click a los links de abajo.
Phase – Fase I – Demolition
Phase – Fase II – Instalations
Phase- Fase III – Faux Shiplap
Phase – Fase VI – Building a Industrial Vanity
Phase – Fase V – Painting the vanity with a RH finish
Phase – Fase VI – The Perfect Fixtures
Farmhouse Industrial Master Bathroom Reveal
I wanted to take the time to thank all of my sponsors. They have helped so much with the Master Bathroom Remodel. Thank you so much for being such amazing partners.
Quería tomar el tiempo para agradecer a todos mis patrocinadores. Me han ayudado mucho con el remodelado del baño. Muchas gracias por ser tan increíbles colaboradores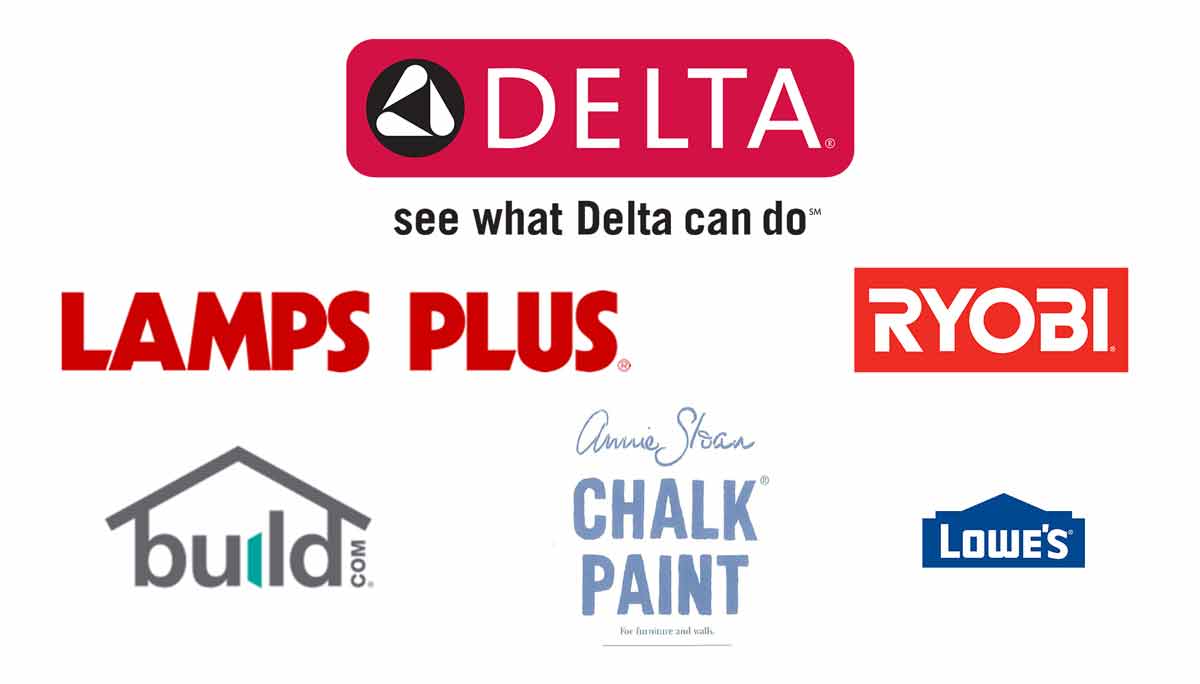 Delta Faucets |Lamps Plus | Ryobi| Build.com | Chalk Paint | Lowes.