This is an easy DIY that was inspired by a Restoration Hardware rope mirror and completes my vision for my house entryway. While it looks great and was easy, I encountered a couple complications along the way which were mainly caused by my laziness. Originally, I hadn't wanted to remove the mirror from the frame; I thought it'd be possible to paint the unit as one piece. However, I ended up removing the frame from the mirror to fix imperfections and that caused me to basically do this tutorial twice. As you'll see in the video I began painting the frame gold, but after I noticed my mistake I changed the color and decided to give it wooden finish using Chalk Paint®. Even though I had to paint the frame twice, I'm particularly happy with how it came out. It looks like an old wooden frame which is exactly what I wanted and is smudge/fingerprint resistant.
As you'll see, the cabinet knob was modified by my husband so that he could screw it into the wall. While the knob isn't load-barring, it a very nice touch to an already great project.
I hope you like this DIY and if you make it don't forget to share a pic on my Facebook page or tag me on Instagram.


Este es un DIY fácil que fue inspirado por un espejo de la cuerda del Restoration Hardware y que completa mi visión para mi en entryway de mi casa. Aunque se ve muy bien y fue fácil, me tope con un par de complicaciones a lo largo del camino que fueron causados principalmente por mi pereza. Originalmente, no había querido quitar el espejo del marco; Pensé que sería posible pintar el marco como una sola pieza. Sin embargo, terminé quitando el marco del espejo para arreglar las imperfecciones y eso me hizo básicamente hacer este tutorial dos veces. Como verás en el video comencé a pintar el marco dorado, pero después de notar mi error cambié el color y decidí darle acabado de madera con Chalk Paint®. Aunque tuve que pintar el marco dos veces, estoy particularmente feliz con cómo salió. Si lo pudieras ver estoy segura que pensaría que el marco es de madera.
La perilla del armario fue modificado por mi marido para que él podría atornillar en la pared. La perrilla no sujeta el peso del espejo solo es un elemento decorativo.
Espero que les guste este bricolaje y si lo hacen no se olviden de compartir una foto en mi página de Facebook o me etiqueta en Instagram.
Supplies
Langesund mirror from Ikea
5in x 7ft. (15mm x 2.1m) rope
1 cabinet knob
2 – 1/4in. x 4in. eye bolts with nuts
Spray paint or Chalk Paint
Scissor, twine
2 small nails
Drill
Materiales
Langesund espejo de Ikea
Cuerda de 15mm x 2.1m
1 perrilla de gabinete
2 – 1/4in. x 4in. perno con turca
Spray paint or Chalk Paint
tijera, cordón
2 clavitos pequeños
taladro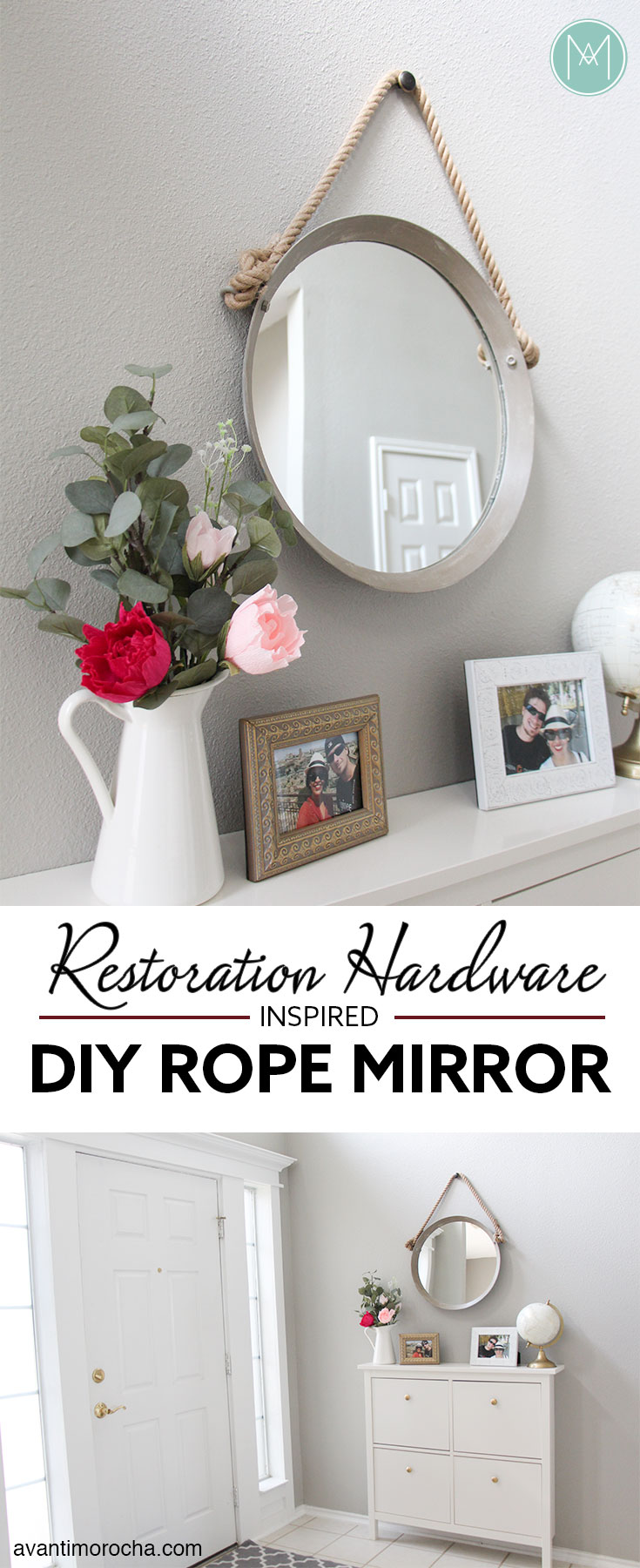 WATCH THE VIDEO TUTORIAL