When we decided to remodel our master bathroom I knew from the beginning I wanted a new open vanity with vessel sinks and beautiful wall mounted faucets. I spend days looking at projects on Pinterest as well as through furniture catalogs from places like Restoration Hardware and Pottery Barn, it took a while to design but after scouring the internet for inspiration we've finally built the master bathroom vanity of my dreams. Please feel free to check my Master Bathroom inspiration board on Pinterest.
My husband built this beautiful vanity for our master bathroom it looks amazing, he did an amazing job, click HERE if you want to know how he did it. After he finished building the vanity he handed the baton to me to add the finishing touches. My friends at Chalk Paint® collaborated with me on this project. Having now worked with Chalk Paint® a couple times, I feel right at home with the techniques described by Annie Sloan and I knew I could bring this piece of furniture to life with an RH finish using Chalk Paint®. Getting the color right took some time and a lot of research. To get the beautiful RH finish I used Chalk Paint® in Old White, Graphite and Coco with Dark and White Wax as a finishing touch.
Before painting, I stopped by Restoration Hardware and Pottery Barn to get a feel for how their pieces look in real life. If you didn't know already, I'm a visual person and I need to touch and see things to fully understand what I'm attempting to accomplish. After I had a good idea of what I was going to do, I started by painting a few test pieces using scrap wood. I played around with different techniques, the ordering of colors and the consistency of different mixtures. This process also took quite a while to get right but when I got, it was marvelous. In the past, I had tried to use stain to get the weathered I sought but it never came out quite right. When you use Chalk Paint® the colors blend with one another and it works, as designed, perfect.
In the video tutorial I mentioned that I felt like I had used a little too much wax and while I could have left it the way it was, it looked great even with the extra wax, I used a little bit of White Wax to lighten it up; remember a little wax goes a long way. I also recommend playing around with the Wax by mixing the Dark and White. The colors and finishes you're able to achieve with the Waxes are really quite amazing.
As you'll see, I painted the vanity with multiple coats, top and bottom, and while you might expect I be out of paint, or that I had to use multiple pints to cover the whole vanity, I only used around a third of each pint between coats. I did however use about half of the Dark Wax (as I mentioned I think I used too much) and White Wax it's almost full. Chalk Paint is not a cheap paint, but it's worth it every cent. The coverage you get from this paint is nothing short of spectacular and should you use it in your next project, like I will be, I'm sure you'll be impressed.
I hope you like this video and if you used use my video tutorial to paint furniture, or build a vanity of your own please don't forget to share a pic; I'd love to see.


Cuando decidimos remodelar nuestro baño principal sabía desde el principio que quería un vanity abierto con lavaderos en la parte superior y con caños empotrados a la pared. Me tomé mi tiempo buscando inspiración en Pinterest, así como revisando los catálogos de Restoration Hardware y Pottery Barn. Después de todo este proceso, diseñamos el vanity perfecto para nuestros espacio, de la forma que yo tenía en mente. Si lo deseas puedes revisa el board que cree en Pinterest de inspiración.
Mi esposo construyó el hermoso vanity para nuestro baño principal se ve increíble, si quieres saber como lo hizo dale CLICK AQUI. Después de que terminó de construir la vanidad, me cedió el bastón para continuar el proceso y pintar el mueble. Mis amigos de Chalk Paint® colaboraron conmigo en este proyecto. Ahora que he utilizado Chalk Paint® varias veces ya me siento mas familiarizada con las técnicas descritas por Annie Sloan y estaba completamente segura que podía lograr un acabado similar a los muebles de Restoration Hardware usando Chalk Paint®.
Lograr obtener el hermoso acabado de Restoration Hardware me tomo bastante tiempo de investigación, después de esto supe que las pinturas a usar eran Chalk Paint® en Old White, Graphite and Coco con Dark y White Wax como sellador.
Antes de pintar, me di una vuelta por Restoration Hardware y Pottery Barn para tener una mejor idea del acabado que quería obtener. Yo soy una persona muy visual y necesito tocar, mirar para lograr mejores resultados. Después que ya tenía idea de lo que iba hacer comencé a pintar unas cuantas piezas de prueba usando piezas de madera que quedaron de residuo de la construcción del vanity. Jugué con diferentes técnicas, el orden de los colores y la consistencia de las diferentes mezcla, este proceso tomó tiempo, pero al final estuve feliz con el resultado.
En el pasado, he tratado he usado mancha para obtener una acabado de madera gastada, pero lamentablemente nunca he estado muy feliz con el resultado que he obtenido. Esto es completamente distinto cuando he usado Chalk Paint ® ya que los colores se mezclan entre sí y funciona de maravilla. En el video tutorial les mencione que yo creo que use mucho Dark Wax es por eso que luego agrege White Wax para aclararlo, acuérdense que un poco de Wax cubre bastante. Les recomiendo jugar con los ceras tal vez mezclar Dark y White Wax, los colores y acabados que son capaces de lograr con las ceras son realmente sorprendentes.
Como verán, yo pinte el vanity con varias capas y aunque no lo creas solo utilice un tercio de pintura de cada lata, use como la mitad de Dark wax, como mencione me parece que me excedí un poco con este y la lata de cera blanca esta casi completamente llena. Chalk Paint ® no es una pintura barata, pero vale cada centavo, la cobertura que se obtiene es espectacular y si lo utilizas en tu próximo proyecto, como yo lo haré, estoy seguro de que te impresionaras.
Espero que te guste este video y si usas mi tutorial de video para pintar muebles, o construir un vanity por favor no te olvides de compartir una foto; me encantaría verlo.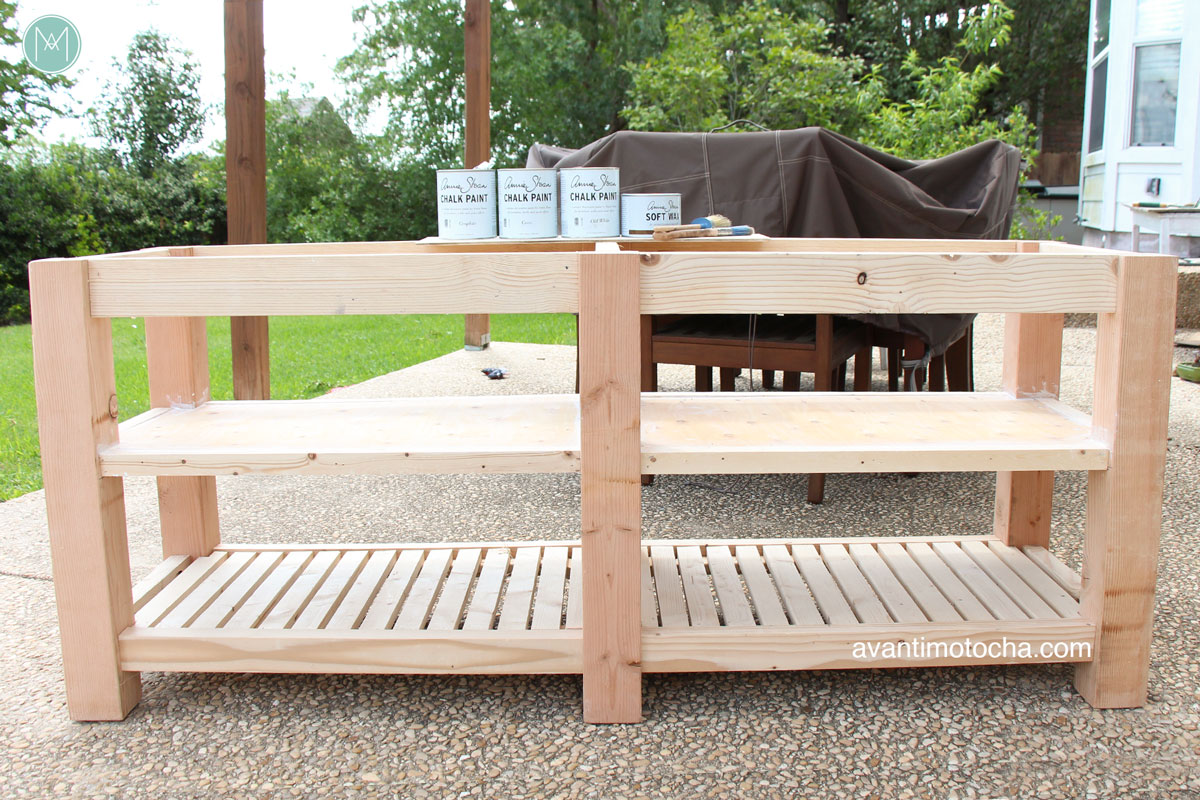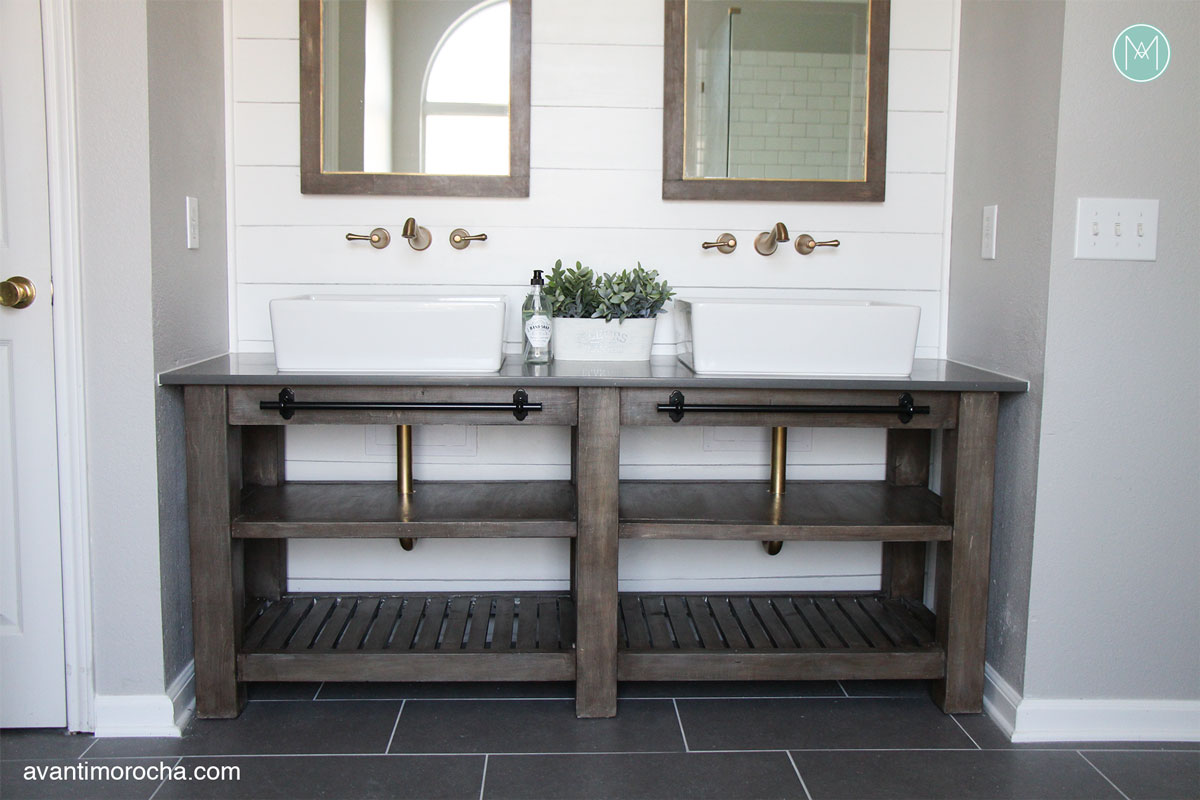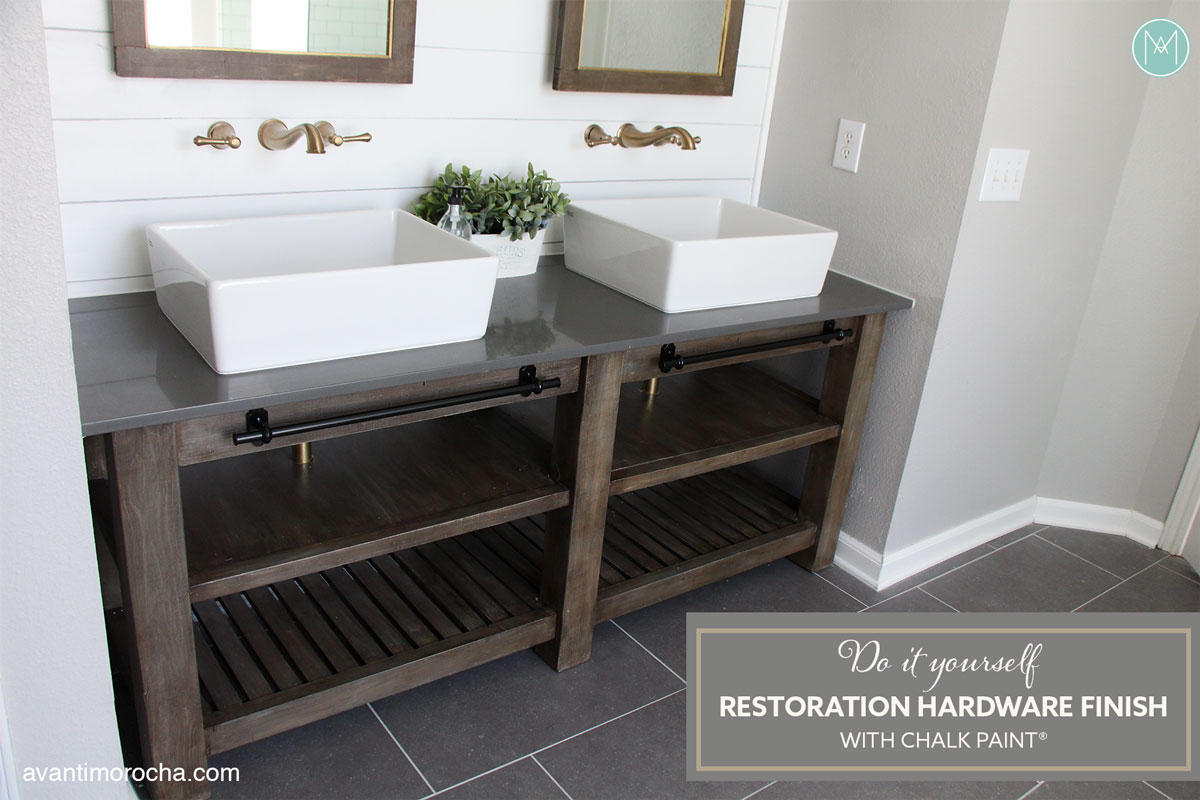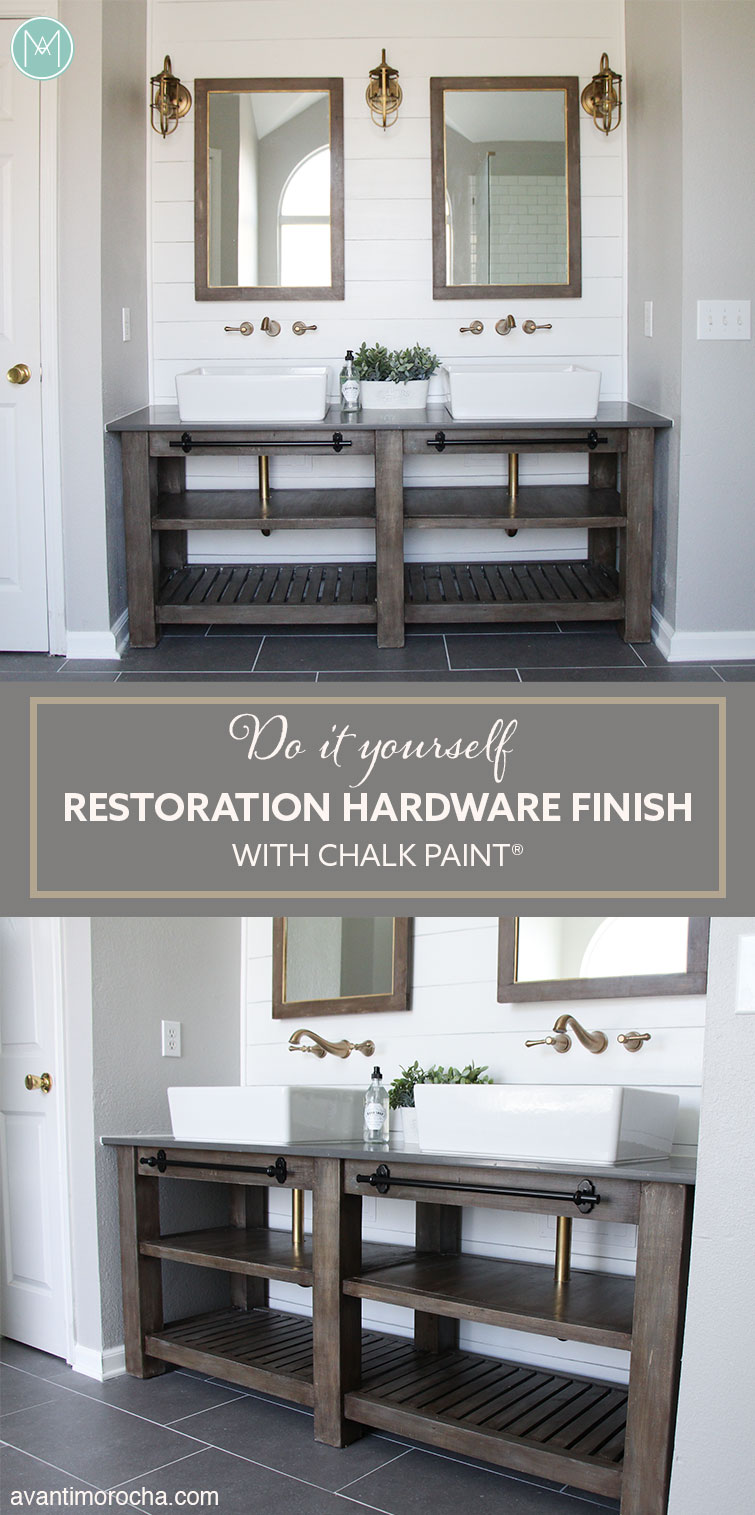 WATCH THE VIDEO TUTORIAL

If you want to check the different phases of the bathroom remodel click below.
Si desea puedes ver las diferentes fases de la remodelación de nuestro baño principal, haga click a los links de abajo.
Phase – Fase I – Demolition
Phase – Fase II – Instalations
Phase- Fase III – Faux Shiplap
Phase – Fase VI – Building an Industrial Vanity
Phase – Fase V  – Painting the vanity with a RH finish
Phase – Fase VI – The Perfect Fixtures
Farmhouse Industrial Master Bathroom Reveal
I wanted to take the time to thank all of my sponsors. They have helped so much with the Master Bathroom Remodel. Thank you so much for being such amazing partners.
Quería tomar el tiempo para agradecer a todos mis patrocinadores. Me han ayudado mucho con el remodelado del baño. Muchas gracias por ser tan increíbles colaboradores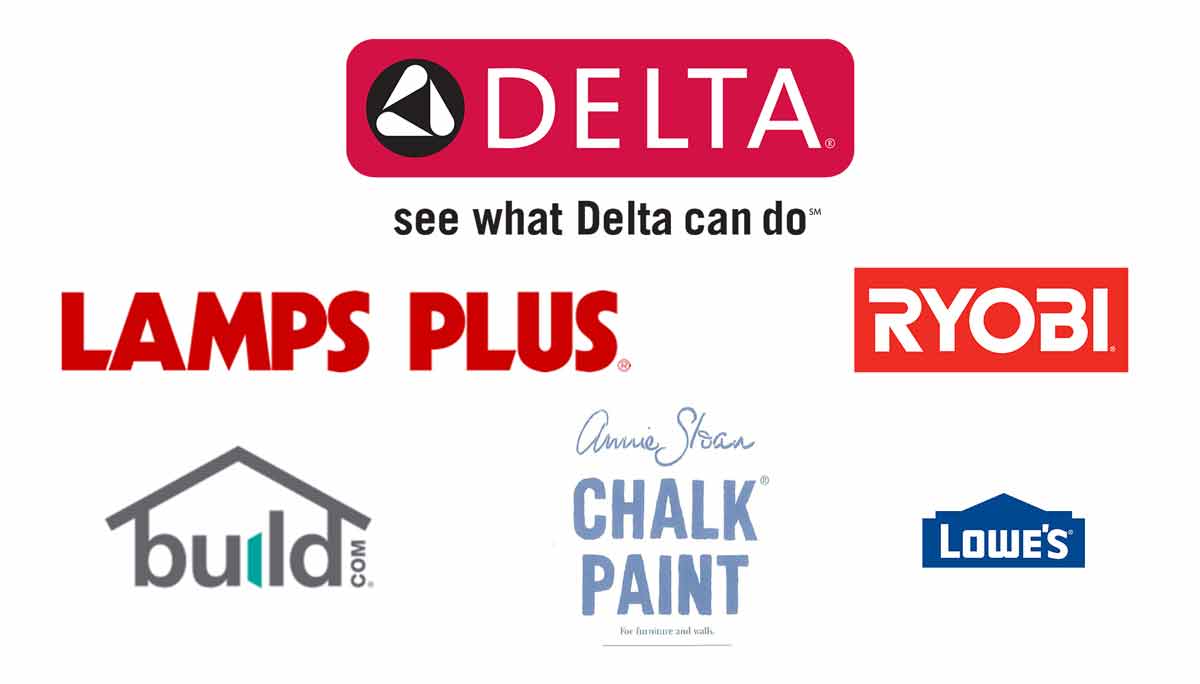 Delta Faucets |Lamps Plus | Ryobi| Build.com | Chalk Paint | Lowes.