When we bought our home we had no plans to remodel the master bathroom. While it wasn't the prettiest it looked good and did everything we needed. It wasn't until later that we noticed the tile job in the shower was poorly done but our initial thought was that it looked bad but wasn't anything to be worried about. Then one day a single tile fell from the wall while Kevin, my husband, was taking a shower. This raised some immediate concerns so he began to investigate the problems. Next thing I knew time Kevin has opened a portal to another dimension in our shower. Being fans of the show "Stranger Things" I imaged this was how the upside down world would look in real life. Kevin uncovered a systemic problem where the tile was leaking causing rot and began demolishing the shower to eradicate the problem.
Since we're being forced to replace the shower we also decided to remodel the entire bathroom; it needed an update and we needed to make it match our design aesthetic (mainly my design aesthetic ☺). After making the numbers we decided to do most things ourselves. Since owning a home we've discovered that contractor prices for demolition is as much as, if not more, than the cost of installation so getting the prep work done ourselves will save a lot of money allowing us to stay on budget.
The first thing we did was to remove the shower enclosure. I don't really like breaking things someone else may want to use. So we did our best to try to remove all of the pieces without breaking them (Kevin really just wanted to smash it all). Next thing we did was to pull the tile off from the bathroom walls; this wasn't that difficult. Kevin used a pry-bar and a hammer for most of it. He also removed the drywall around the shower because it was rotten and simply was not the best material for a shower enclosure. After this Kevin removed the toilet and got the floor ready to be demoed.
The next step was to pull the tile up from the floor. If you're planning to do it this here are a couple tips, which made our lives a lot easier:
By the way don't forget to pants and long sleeve t-shirt so you about any cuts. Tile is really sharp so be careful.
One of the most laborious parts of "demo day" is cleaning. Putting everything in buckets and taking them to the garage is tiring and takes forever (especially when carrying it from the second floor). Once all of the major debris were removed we swept the floor and pulled the exposed screws that used to hold the cement board to the subfloor.
The next step was to pull the mirror and remove the vanity. I watched a video on YouTube of the best way to remove a mirror without breaking it and I'm happy to report, it works! . Pulling the vanity was a bit of a hassle since I didn't want to destroy the cabinets (Kevin was ready to simply smash it all). The cabinets were in great condition so I figured out we can simply pull them out so we can use them on another project. To remove the cabinets Kevin cut the backside of the cabinets using a Ryobi JobPlus multi use saw (buzz saw, JobMax, etc). We had to cut the backs off because we didn't want to deal with pulling the plumbing apart and cutting off the angle stops at this time. With the backs cut off and the joining screws pulled out from the cabinets they simply came out in three easy to manage pieces.
All this work took as about 2 weekends (4 days). This is all for now and there is more to come. Follow us as we continue our journey.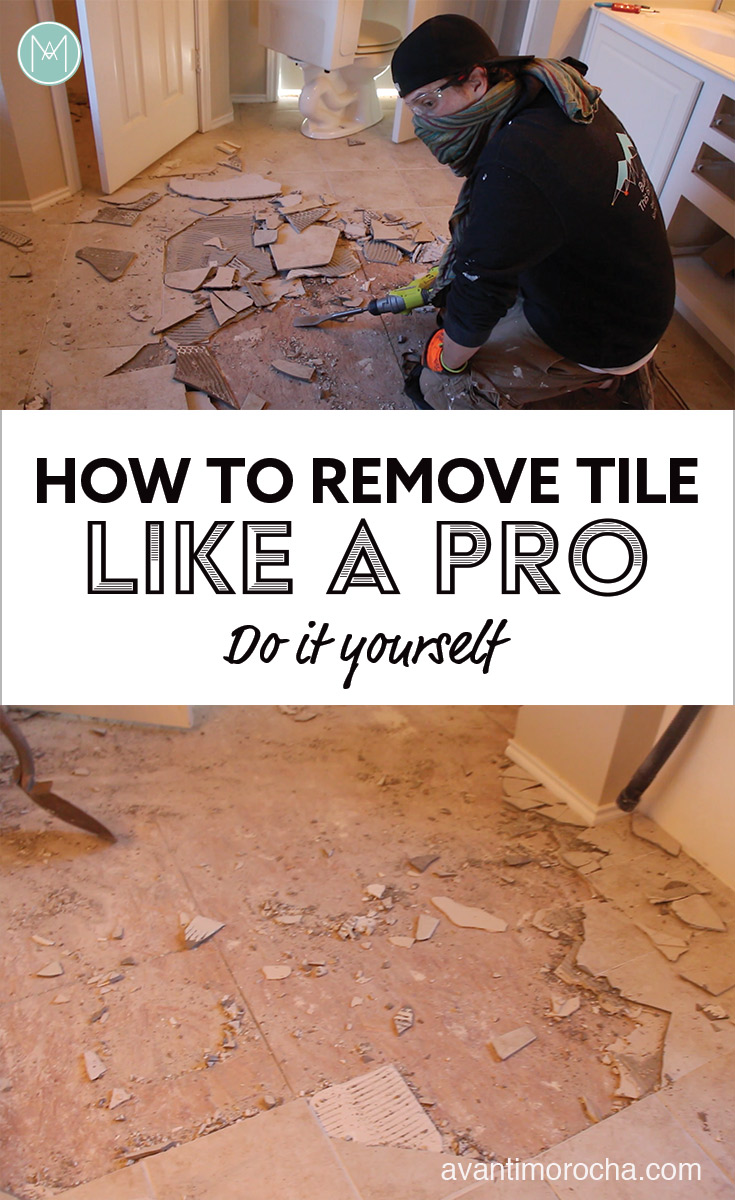 WATCH THE VIDEO

Cuando compramos nuestra casa no teníamos planes de remodelar el baño del dormitorio. Aunque no era el baño más bonito parecía estar en buenas condiciones. No fue hasta más tarde que nos dimos cuenta el trabajo que hicieron en la colocación de la mayólica de la ducha era malísimo, pero pensábamos que era un problema completamente estético. Entonces un día cuando Kevin se estaba bañando se cayó una mayólica, me acuerdo que el me dijo que iba inspeccionar que está pasando. La próxima vez que entré en el baño descubrí que Kevin había abierto un portal a la dimensión desconocida . Nosotros somos fans del programa de Netflix Stranger Things si tu estás familiarizado con la serie entenderás, que cada vez que yo entraba al baño sentía que había un portal a una dimensión desconocida. Ya que teníamos que reemplazar la mayólica le sugerí a Kevin que tomáramos esta oportunidad y cambiemos el baño a nuestro gusto.
Después de hacer las cuentas de cuánto iba a costar la remodelación le dije a Kevin que para mantener las cosas en un presupuesto hagamos la demolición nosotros mismos. Aunque no lo puedas creer el costo de la demolición es muchas veces el mismo precio de la colocación, y el precio es totalmente justo, porque la verdad es bastante trabajo. Pero estoy segura que incluso si no tienen experiencia al igual que nosotros podrán hacer un buen trabajo y ahorrar dinero haciendo la demolición ustedes mismos.
Lo primero que hicimos fue quitar el vidrio de la ducha. Realmente no me gusta romper cosas que sé que están en buenas condiciones y que alguien puede usar. Así que le pedí a Kevin que hiciéramos lo posible para sacar la cubierta de vidrio si romperla, para así poder donarla. Lo siguiente que hicimos fue retirar la mayólica de la ducha. Esto no fue tan difícil Kevin uso una barra y un martillo. También retiró todo el drywall de la pared ya que estaba húmedo y además que no es el material correcto para usar en una ducha.
Ya sabíamos que remover la mayólica del piso no iba a ser tan fácil como la de la pared. Si usted está planeando remover la mayólica aquí les daré unos tips que harán este proceso no sea tan matador.
Por cierto no se olvide de usar pantalones y camiseta de manga larga para evitar cualquier corte. Las mayólicas son muy filas, y en cualquier momento puede saltar un pedacito que les cortara.
Kevin sacó el inodoro antes de que rompamos el piso.
Una de las partes más laboriosas de demoler es limpiar. En nuestro caso, tuvimos que poner la mayólica en baldes y llevarla al 1 piso, esto demora bastante. Luego barrimos y nos tocó remover la mayoría de tornillos que sobresalen de la colocación de la placa de cemento que sostenía al piso de mayólica. Estos solo lo veras en baños que este en el segundo piso.
Era hora de quitar el espejo grande. Busque un tutorial en YouTube de la mejor manera de quitar un espejo sin romperlo y funciono.
La última cosa por hacer es remover los gabinetes ya que estos no van con el nuevo diseño que quiero para el baño. La mejor manera que encontramos para sacarlos sin destruirlos, fue cortar la parte de atrás con una sierra.
Todo este trabajo tomó como cerca de 2 fines de semana (4 días). Esto es todo por ahora pero hay mas venir, síguenos que la aventura continua.
MIRA EL PROCESO EN ESTE VIDEO

If you want to check the different phases of the bathroom remodel click below.
Si desea puedes ver las diferentes fases de la remodelación de nuestro baño principal, haga click a los links de abajo.
Phase – Fase I – Demolition
Phase – Fase II – Instalations
Phase- Fase III – Faux Shiplap
Phase – Fase VI – Building an Industrial Vanity
Phase – Fase V – Painting the vanity with a RH finish
Phase – Fase VI –  The Perfect Fixtures
Farmhouse Industrial Master Bathroom Reveal
I wanted to take the time to thank all of my sponsors. They have helped so much with the Master Bathroom Remodel. Thank you so much for being such amazing partners.
Quería tomar el tiempo para agradecer a todos mis patrocinadores. Me han ayudado mucho con el remodelado del baño. Muchas gracias por ser tan increíbles colaboradores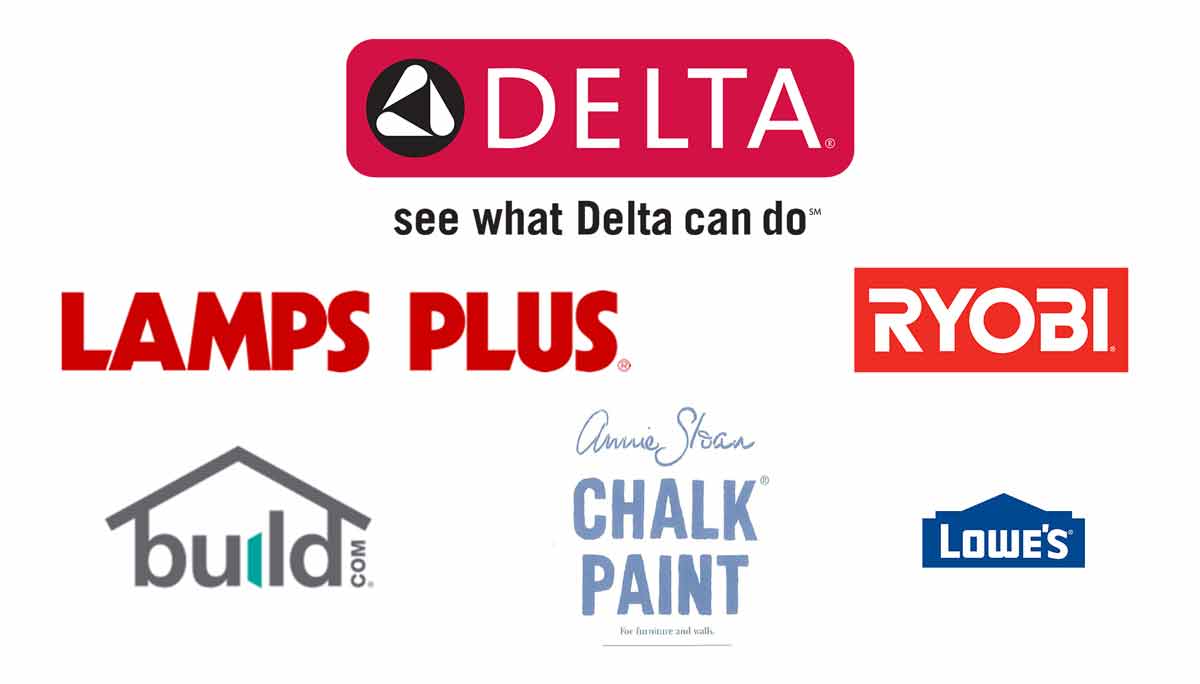 Delta Faucets |Lamps Plus | Ryobi| Build.com | Chalk Paint | Lowes.