Ever since we bought our home in Texas, roughly 2 years ago, I've had tons of home improvement ideas and things I've wanted to change around the house to make it my own and give it my own style. I wanted my house to be unique and not a cookie cutter from the suburbs. Sometimes it takes a while to accomplish your objective and in this case it's taken almost 2 years and counting.
More than half of the house was painted green which is not my favorite color. When we bought the house I thought it was going to be the first thing we were going to chance but we procrastinate for a very long time and it wasn't until recently that we finished painting more than half of the house; we painted the downstairs kitchen, living room, and upstairs halls. My husband and I decided to take advantage of holiday season to work on the house.
Here's the backstory: we had plans to go to Colorado visit some friends and then go to California to visit our family for the holidays however just a couple weeks before our time away we discovered a leak in the master bathroom, so our plans changed. We decided just to visit our friends in Colorado and return home to work on the house. Since we needed to replace the tile we made the leap to remodel the whole master bathroom. You can see the work in progress here (soon to come). I told my husband that before working on the bathroom we should paint the over the green, and trim the windows in the living and kitchen area. My husband suggested that we should also change the fluorescent lights we have in the kitchen se we'd have a cleaner look, more updated look with better lighting quality. To be honest I thought this wasn't going to take us more than 4 to 5 days… silly me.
We returned home on December 24 and start working on Christmas day. Kevin and I don't have too much experience painting; the largest room we had painted prior to this was our dining room at just under 120 square feet. This time we're going to do 5 times in addition to also needing to paint the ceiling.
Here I need to confess one thing: this home improvement DIY was 99.999999999999% mine idea; my husband would have left everything exactly the way it was and only had fixed the leaking tile (likely by using same cheap tile that was there before). Even after I convinced him that it was a good idea to do the improvements he would have rather pay someone to do the paint job. Call me cheap, but it's something that I knew we could do and doing it ourselves was going to save lots of money. Plus we need to save some money for all the expenses we are going to have remodeling the bathroom. My tactic to get him to work on the project was to PESTER him until he agreed/gave up. Another thing I like about doing the jobs is that we get to buy tools, which can be reused on other projects. That said, I think my husband complains about doing my home improvement ideas because he ends up doing most of it. I think its fair to say it's a 70/30 split in terms of the work we do together; he's the muscle and I'm the brain… hihihi !)


Desde que compramos nuestra casa en Texas, hace aproximadamente 2 años, he tenido en mente muchas ideas para mejorar mi hogar y darle mi propio estilo. Mi objetivo es que mi casa sea única y que no sea una más del montón de casas pre fabricadas de los suburbios. A veces toma mas tiempo del que te imaginas llegar a tus objetivos y en este caso nos tardamos casi 2 años y vienen más.
Más de la mitad de la casa estaba pintada de verde, que no es mi color favorito. Cuando compramos la casa pensé que iba a ser la primera cosa que íbamos a cambiar, pero procrastinamos por mucho tiempo y no fue hasta hace poco que terminamos pintamos sobre el color verde. Pintamos la cocina, sala, y los pasillos de arriba. Mi esposo y yo decidimos aprovechar la temporada de vacaciones para trabajar en la casa.
Les cuento lo que paso teníamos planes de ir a Colorado a visitar a algunos amigos y luego ir a California a visitar a nuestra familia para las vacaciones sin embargo sólo un par de semanas antes de nuestro viaje descubrimos una fuga en el baño principal, así que nuestros planes cambiaron. Decidimos sólo visitar a nuestros amigos en Colorado y volver a casa para trabajar en esta casa. Ya que necesitábamos reemplazar la mayólica decidimos tomar esto como una oportunidad para renovar el baño de arriba. Puedes ver el trabajo que estamos haciendo aquí (muy pronto). Le dije a mi esposo que antes de trabajar en el baño deberíamos pintar el color verde que no me gusta para nada, ya habíamos comprado la pintura hace mas de 4 meses y estaba bien sentada en el. También decidimos enmarcar la ventanas. Mi esposo me sugirió que también debemos cambiar luz fluorescentes que teníamos en la cocina y usar luz de receso. Para ser honesta pensé que esto no nos iba a tomar más de 4 a 5 días … pero no fue así.
Regresamos a casa el 24 de diciembre y empezamos a trabajar el día de Navidad. Kevin y yo no tenemos demasiada experiencia en la pintura; La habitación más grande que habíamos pintado antes de esto era nuestra sala de comedor en menos de 10 metros cuadrados. Esta vez íbamos a pintar como 5 veces mas ese area, además de también decidimos pintar el techo.
Voy a confesar una cosa: este tipo de DIY de mejora de hogar es 99.999999999999% idea mia; Mi esposo habría dejado todo exactamente como era y sólo había arreglado el azulejo que se rompió (probablemente utilizando azulejos baratos como el que estaba antes). El hubiera preferido pagar a alguien para que pinte la casa, pero yo no soy asi, yo prefiero hacerlo nosotros mismo, siempre y cuando no sea algo tan complicado además de esa manera ahorramos dinero que necesitaremos para hacer el baño de principal Mi táctica para conseguir que trabajara en el proyecto era JODER hasta que acept. Otra cosa que me gusta de hacer los trabajos nosotros mismos es que podemos comprar herramientas y usar estas en nuevos proyectos. La verdad es que creo que mi esposo se queja de hacer mis proyectos para la casa, porque él termina haciendo la mayor parte. Creo que es justo decir que es una división 70/30 en términos del trabajo. Él es el músculo y yo soy el cerebro … jijiji!)
---
We painted the walls with Sherwin Williams Mindful gray in eggshell and white semi gloss paint for the window trim and board – battens, and white flat paint for the ceiling.
Pintamos las paredes con Sherwin Williams Mindful Gray en eggshell y semi-gloss blanco para pintar la madera y blanco flat para el techo.
Day/dia 01
We prepared the areas we were going to paint, this means covering the kitchen cabinet, the counters, removing the light fixtures, fire alarms, electrical outlets, etc.

Preparamos las áreas que íbamos a pintar, esto significa cubrir los gabinetes, los mostradores, quitar las luces, alarmas contra incendios, toma de corrientes, etc.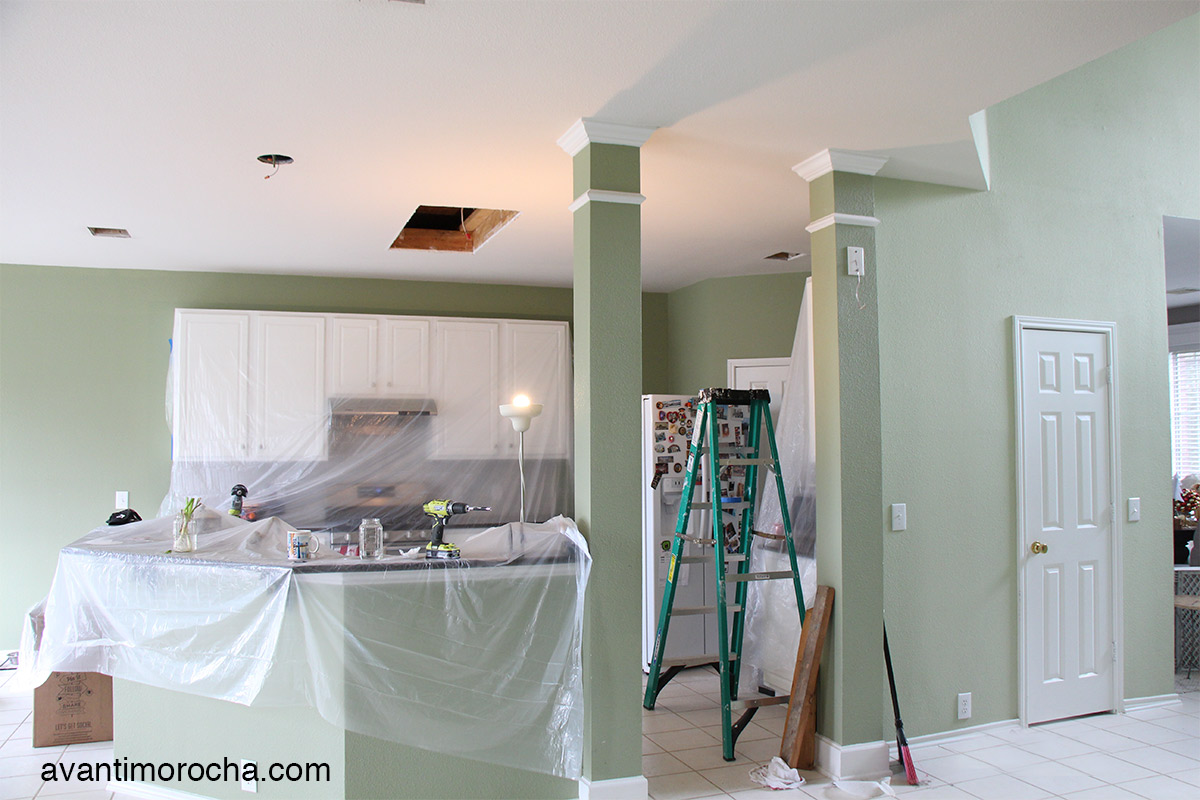 We also removed the stools from the windows since we were going to re-trim them.

También quitaron las bases de las ventanas que íbamos a volver a enmarcar.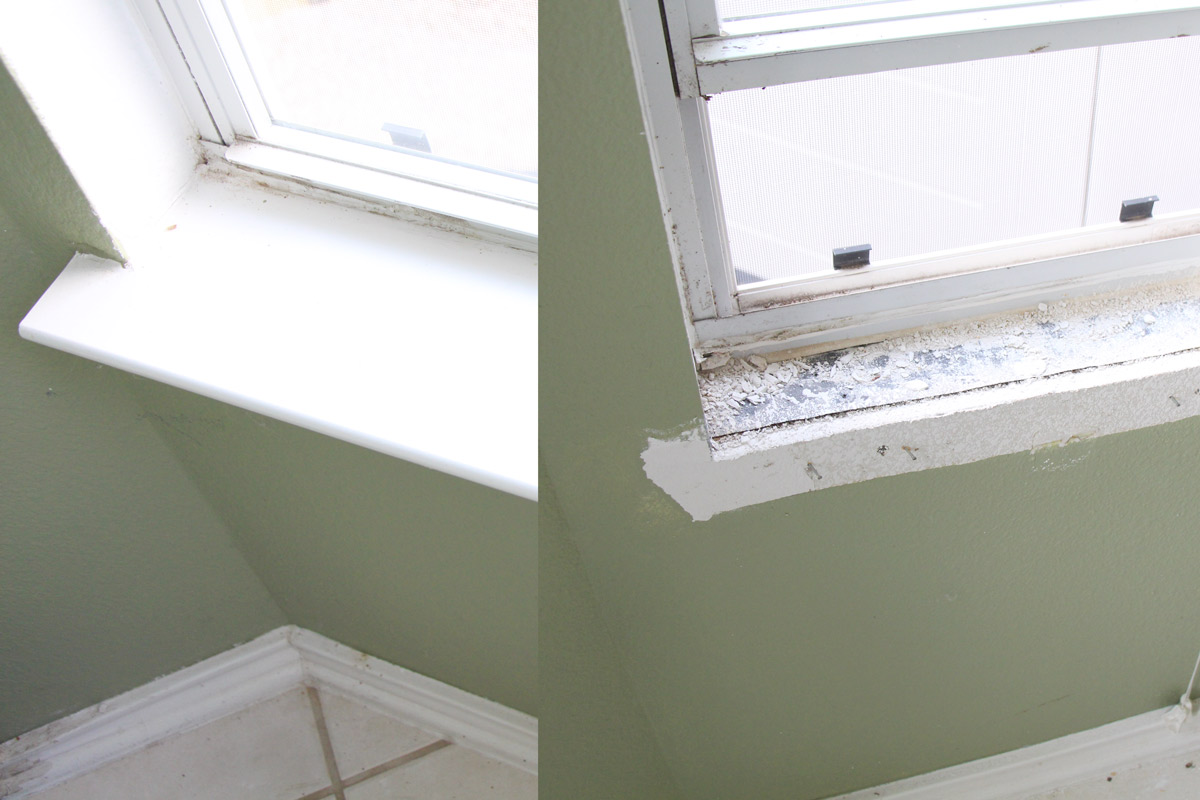 The first thing we did was paint the ceiling; the previous color was more like a like cream. Most on the work on the ceiling was done by Kevin. I'll really recommend using SW paint. We have used paint from the big hardware stores and these no comparison between the box store paint and Sherwin Williams. When using SW paint you will have an amazing result with just one coat, but we did two. If you decide to use SW I recommend you to get Promar 200 at a minimum. While the Promar 40O is a little thinner, it's better than the box store paint but may work well in a household sprayer.

Lo primero que hicimos fue pintar el techo; El color anterior era más como una crema similar. La mayoría en el trabajo en el techo fue hecho por Kevin. Realmente recomiendo usar pintura SW. Hemos usado pintura de las grandes ferreterías y no tienen punto de comparación con Sherwin Williams. Cuando se utiliza pintura SW tendrá un resultado sorprendente con sólo una capa, pero hicimos dos. Si decides usar esta pintura, te recomiendo que compre la linea Pro-Mar 200 como mínimo. Evita usar ProMar 400 es una pintura mas rala, pero si tienes pensado usar un rociador de pintura tal vez esta opción sea la mejor.
I don't know why we didn't buy a sprayer; I think it would have made things far easier. I heard from a friend that sprayers don't work well with latex paints though I don't really know for sure. If you know let me know J? We did all the painting using old school methods (brushes and rollers on poles). While Kevin was painting the ceiling I was painting the trims and using an angled brush.

No sé por qué no compramos un rociador; creo que hubiera sido de gran ayuda, pero también nos hubiera demorado tiempo entender cómo funciona. Oí a un amigo decir que las rociadoras no funcionan bien con pinturas de látex aunque realmente no sé con seguridad. Si usted sabe, hágamelo saber .Para pintar usamos la técnica del rodillo y la brocha. Mientras Kevin pintaba el techo yo pintaba los bordes con una brocha en ángulo.
Day /dia 02
We primed the walls, I know a lot of people skip this step, but I think it helps a lot. We then painted the walls with SW Mindful gray. We still had more ceiling to paint in hallways but we decided to tackle all the painting that has to be done on the fist floor and then go to the second floor.

Lo   Lo primero que hicimos fue colocar primer en las paredes, sé que muchas personas saltan este paso, pero creo que ayuda mucho para obtener buenos resultados. Después pintamos las paredes con SW Mindful gray. Todavía teníamos más techo para pintar en los pasillos, pero decidimos terminar con todo lo que había que pintar en el primer piso y luego ir a la segunda planta.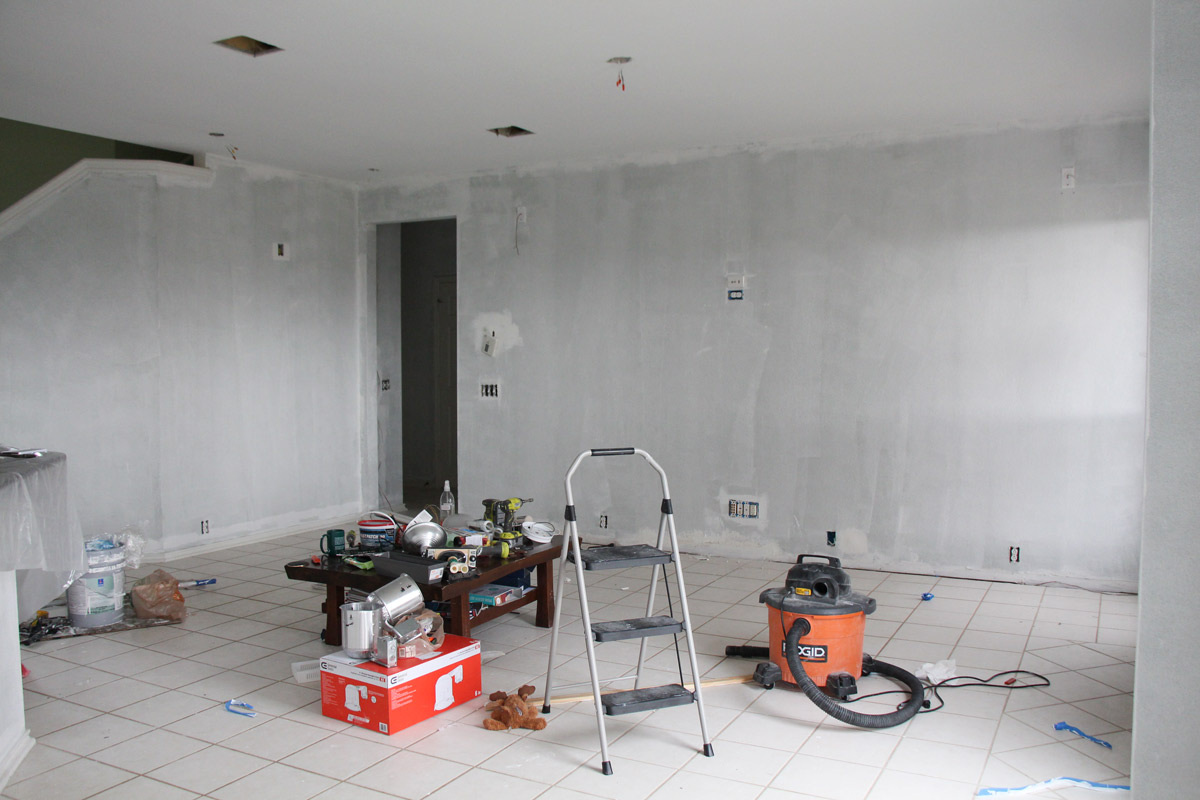 This time we didn't mask the ceiling as we had done in previous project like the guest bathroom instead we use a handy little tool called the "shur-line", you can get it on Amazon or at the hardware store. It has excellent reviews on Amazon so since I'm a believer on reviews I got it, Kevin was a little skeptical which made me also skeptical, but the truth is that is worked great. I love it. The only thing that l recommend you start in a place that is not so noticeable. For example instead of me trying it for the first time in the kitchen I should have use it in the entry hallway next to the garage. It took a little while to get the hang of this tool, I followed a couple of the recommendations I read on Amazon, but after ~15 minutes I was cutting walls like an expert J. I used a brush to place paint in the pad, making sure the wheels didn't get any paint on them. I also noticed that the closer I was to the ceiling the better grip I had on the shur-line, which created a better result.

Esta vez no pusimos cinta en el techo como lo habíamos hecho en el proyecto anterior, como el baño de invitados, sino que usamos una pequeña herramienta llamada "shur-line", que se puede obtener en Amazon o en la ferretería. Tiene excelentes reviews en Amazon así que ya que soy un creyente en los reviews decidí comprarlos, y funciono de mil maravillas. Lo único que recomiendo que comience en un lugar que no sea tan notable. Por ejemplo, en vez de intentarlo por primera vez en la cocina debería haberlo utilizado en el pasillo de entrada al lado del garaje. Tomó muy poco de cogerle la onda a la herramienta, seguí un par de las recomendaciones que leí en Amazon, y después de 15 min ya era una experta☺. Utilicé un cepillo para colocar la pintura en la almohadilla, asegurándose de que las ruedas no tenían pintura sobre ellas. También me di cuenta de que cuanto más cerca estaba yo del techo, mi mano encontraba una mejor position.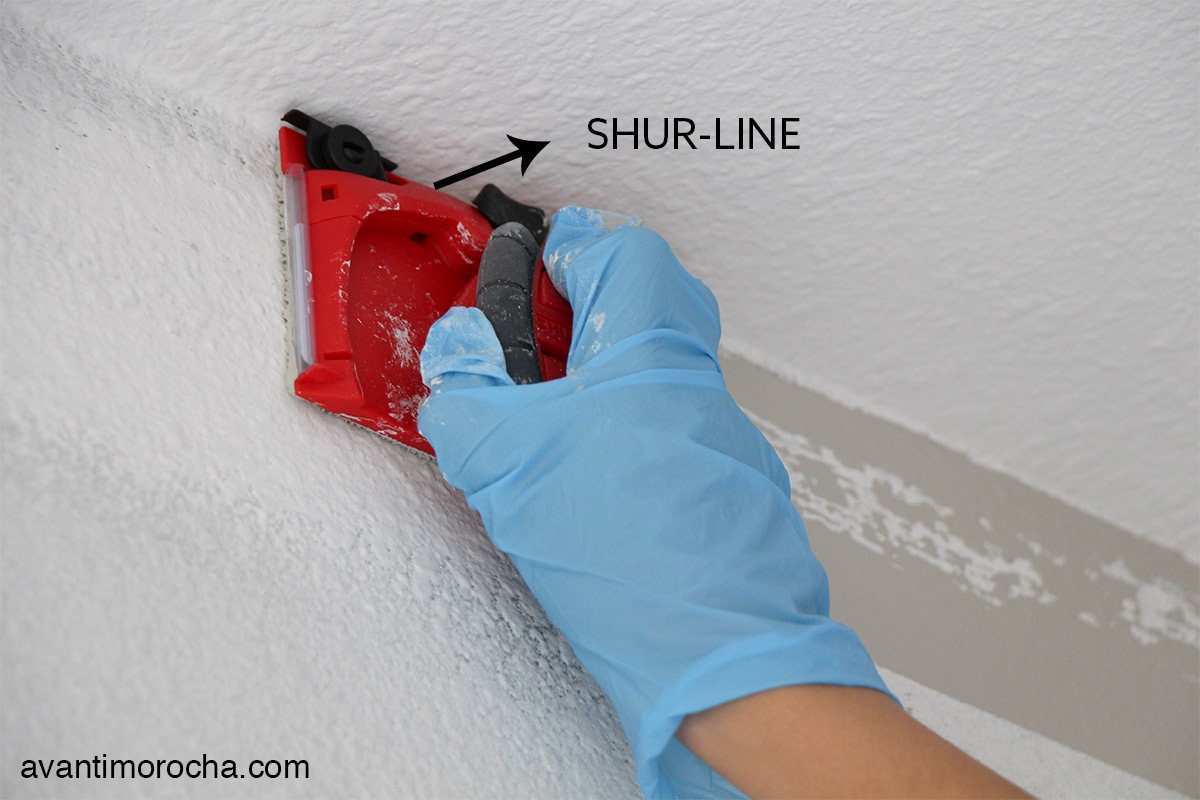 Day/ Dia 03 – 04
We completed painting all over the areas that were the UGLY green on the first floor.

Terminamos de pintar todas las paredes verdes del primer piso.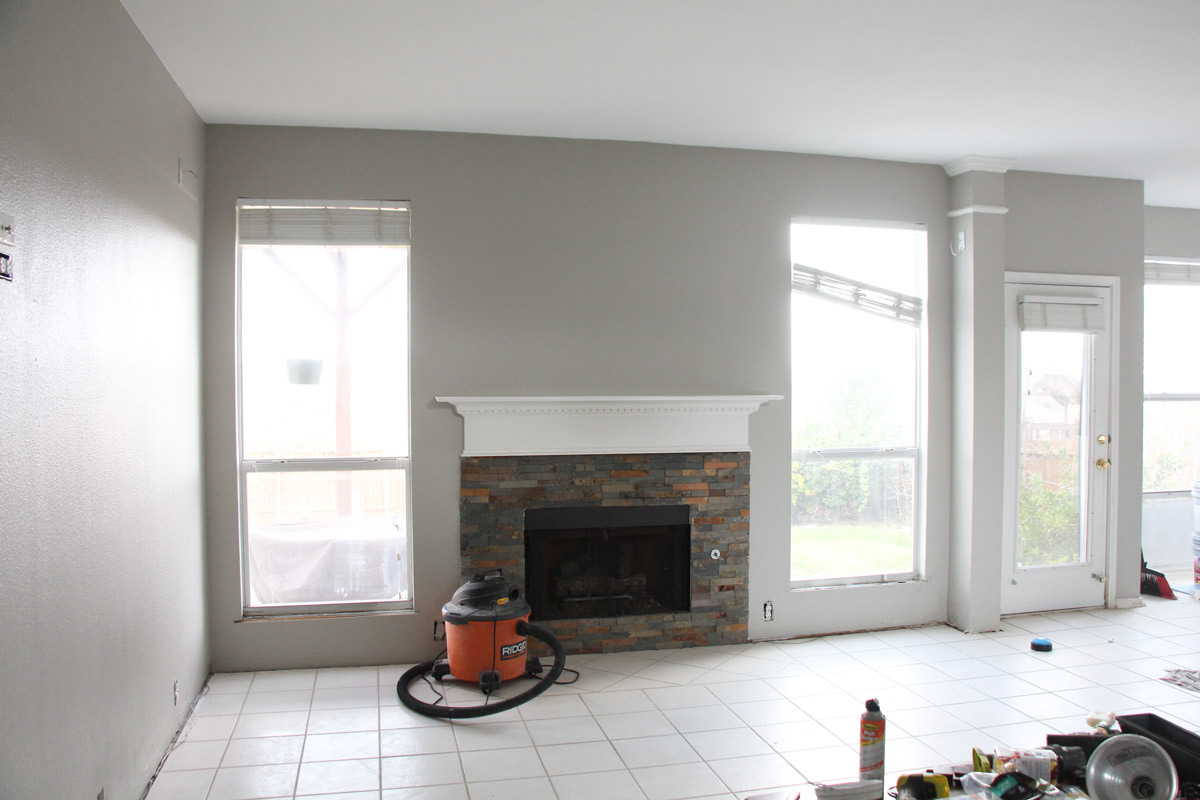 Day /Dia 05
Kevin trimmed the window in the kitchen (breakfast area). I had this project in mind for a very long time. I want these windows to look just like one big bay window with the stools creating one big one piece. Trimming this window took Kevin the whole day, please keep in my that we are all new to this, so if you are have a little more experienced with a miter saw it may take you less time. Kevin had cut crown molding once before for the dinning room, which looks amazing, but I remember he saying that he was done with crown molding FOREVER! It was really difficult because you need to think about the angles. I had to beg Kevin to use crown molding for this window, he wanted to just make the craftsman window, but I really wanted crown molding, luckily for me the day that we whet to Home Depot for material, we found this gadget called "Crown King" Kevin checked the content and said this may help a lot, so we go it. Armed with his "Crown King" he trimmed the window and it looks AMAZING! I have seen a couple projects of bay windows where folks have built a bench instead an integrated window stool. I thought about doing this but since I already have a breakfast table with four chairs this wasn't something I needed.

Kevin enmarco la ventana de la cocina (zona de desayuno). Tuve este proyecto en mente durante mucho tiempo. Mi meta era que la ventana se viese como una sola gran ventana y no como 3 ventanas independientes. A kevin le tomo casi iun dia entero enmarcar esta ventana, tengan presente que nosotros somos nuevos este tipo de trabajo. Kevin había cortado molduras cuando hicimos la ventana del comedor, que luce de maravilla, pero recuerdo que él dijo que nunca mas iba a usar molduras para ningún proyecto, porque fue muy difícil. Tuve que rogarle a Kevin que usara la moldura para las nuevas ventanas, después de mucha queja al final aceptó, también se dio que encontramos una herramienta llamada Crown King que ayuda bastante cuando estás trabajando con molduras. Esta vez que kevin uso ese herramienta cortar las molduras fue mucho mas fácil. He visto un par de proyectos de ventanas de bahía donde optan por construir una banca en vez de un taburete, en mi caso la idea de un banco no iba a funcionar ya que yo ya tengo un juego de mesas y sillas para el desayuno.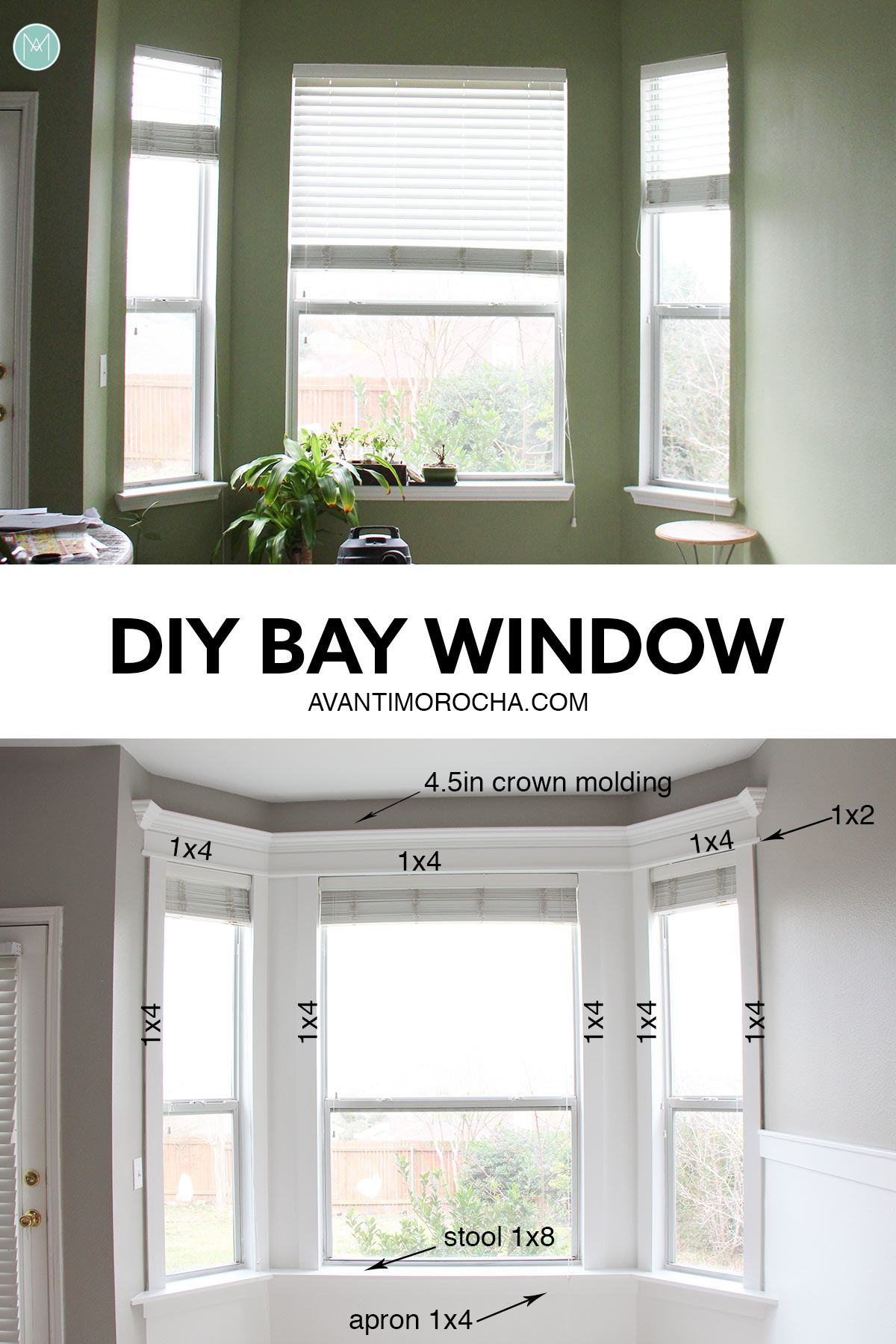 Day /Dia 06
He trimmed the other two windows in the living room. Originally I thought we're going to 1×8 boards to make the stools, like we did with the bay window, but after Kevin cut one of the stools I knew 1 x 6 would be a better fit for these windows. This is one of the things we argue and argue about the most. I told Kevin that we should paint the windows pieces before trimming them, like we did in the guest bathroom, but he said Nooo! Noo! No! for him it was better to trim and then paint placing tape to avoid ruining the paint on the wall. That's what he did, but the truth is that if you're a perfectionist like me you are going to get a better result if you paint the pieces before placing them. While Kevin was trimming the windows I was priming the green walls in the entry hallway and the second floor. We started painting the second floor, which was a lot of work, especially because our ceiling in the entryway is about 20 feet tall, and yes, we did it all with a roller and the ladder; Kevin did it while I criticized it (hihihi).

Kevin enmarco las otras dos ventanas de la sala de estar. Originalmente pensé que íbamos a usar tablas de 1×8 para hacer las taburetes, como hicimos con la ventana de la bahía, pero después de Kevin cortar una de los taburetes me di cuenta que 1x 6 iba a funcionar mejor. Una de las cosas que discutimos más fue si pintar las piezas de madera antes de colocarlas en la ventana. Kevin dice que es mejor pintarlas cuando ya están colocadas, pero para mi es mejor pintarlas antes, así los costados de los marcos de la madera no dejan marcas en la pared. Mientras Kevin estaba enmarcando las ventanas, yo colocaba el primer en las paredes verdes en el pasillo de entrada y el segundo piso. Comenzamos a pintar el segundo piso, que fue bastante trabajo, especialmente porque es doble de altura en la entrada, y sí, lo hicimos todo con un rodillo y la escalera; Kevin lo hizo mientras yo lo criticaba…jiji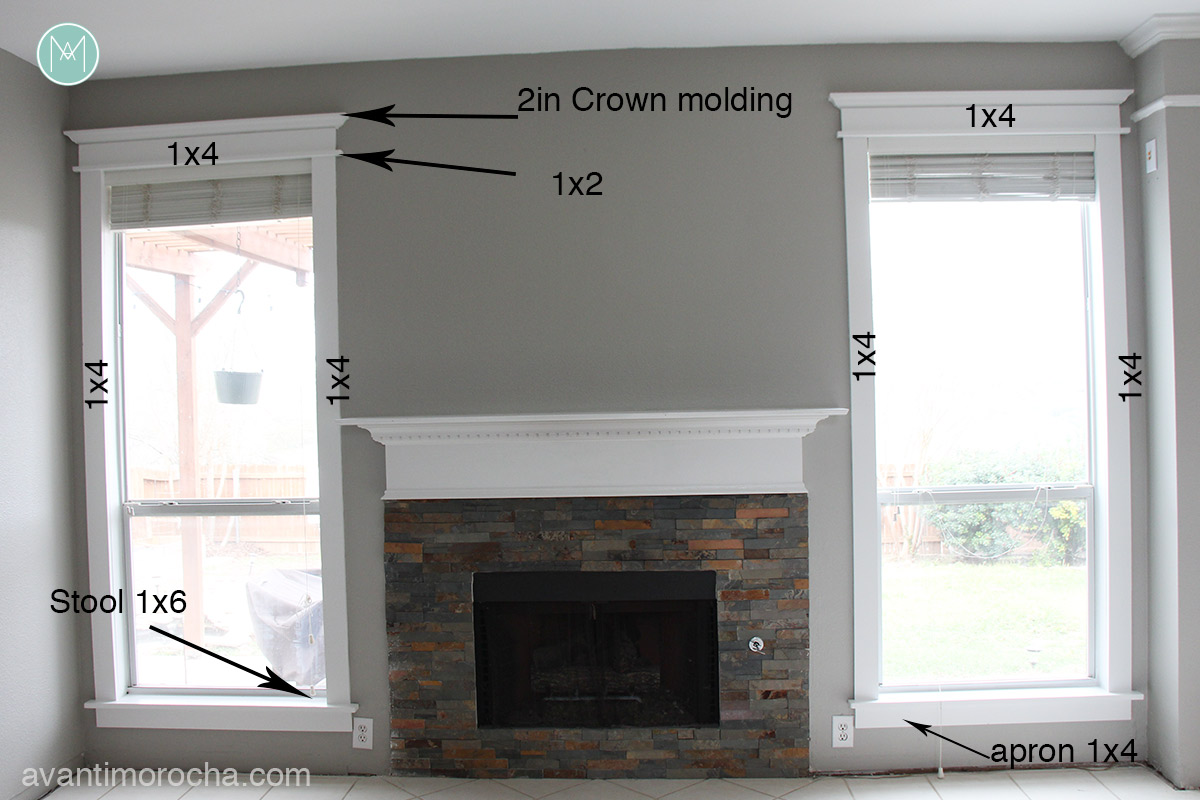 Day / Dia 07
We finished painting everything just in time for our good friends to come and stay with us for New Year's Eve and celebrate life. In order get this all done we worked at an exhausting pace, but we did it.

Cayó el 31 de Enero, terminamos de pintar todo justo a tiempo para que nuestros buenos amigos vengan y se queden con nosotros para la víspera de Año Nuevo y celebrar la vida.
After the New Year we took a break of about 2 days and then go back to work. Después del Año Nuevo tomamos unos 2 dia de descanso y luego volvimos al proyecto. 
Day / Dia 08-10
We finished paint the window's trim, placing can lights and patching the hole where once we had a fluoresce light.

Terminamos de pintas los marcos de madera, Kevin colocar las luces de receso y parcho el hueco que quedó cuando retiramos la luz fluorescente.
I cleaned and put things always. Lesson learned, don't underestimate the time it'll take to do a project, especially when lack experience doing large home improvement projects.

Yo limpie y puse las cosas a su lugar. Una cosa que aprendí es no a subestimar el tiempo que te puede tomar un proyecto, especialmente cuando no tienes tanta experiencia en este tipo de proyectos.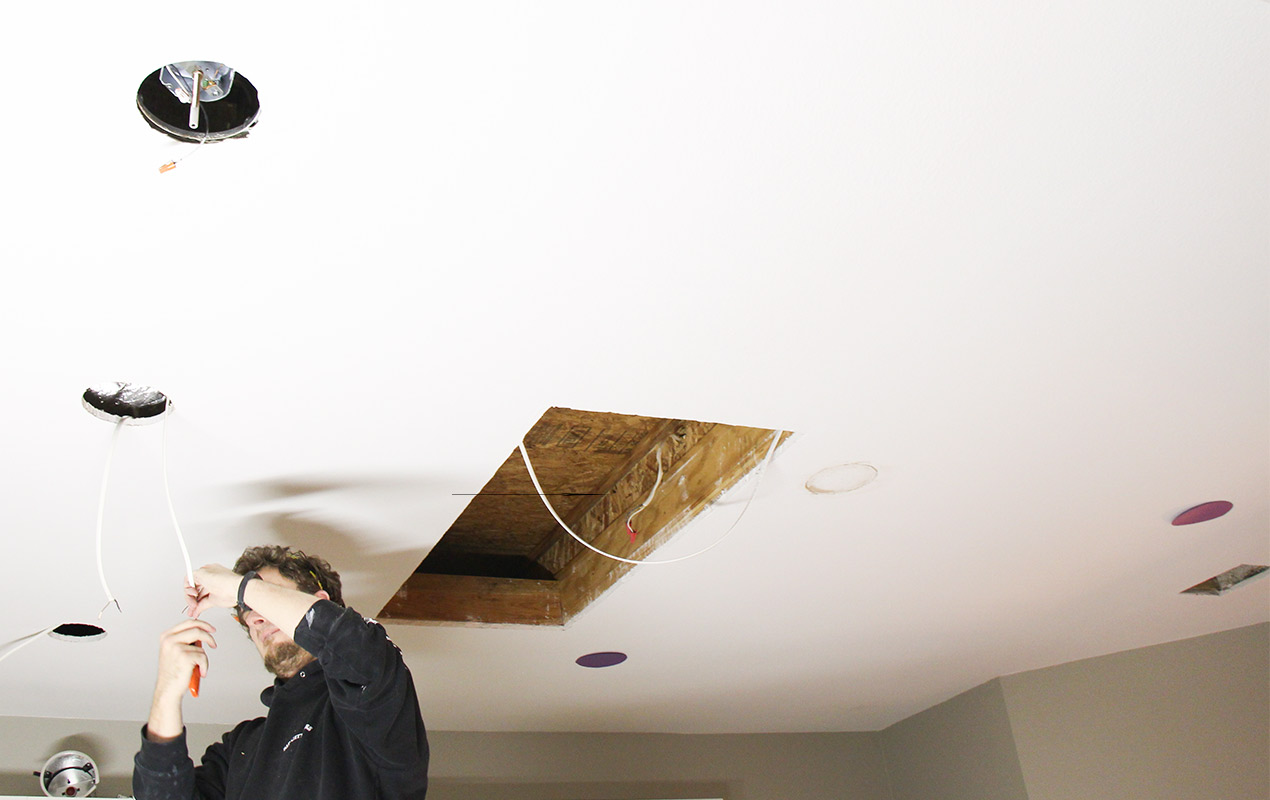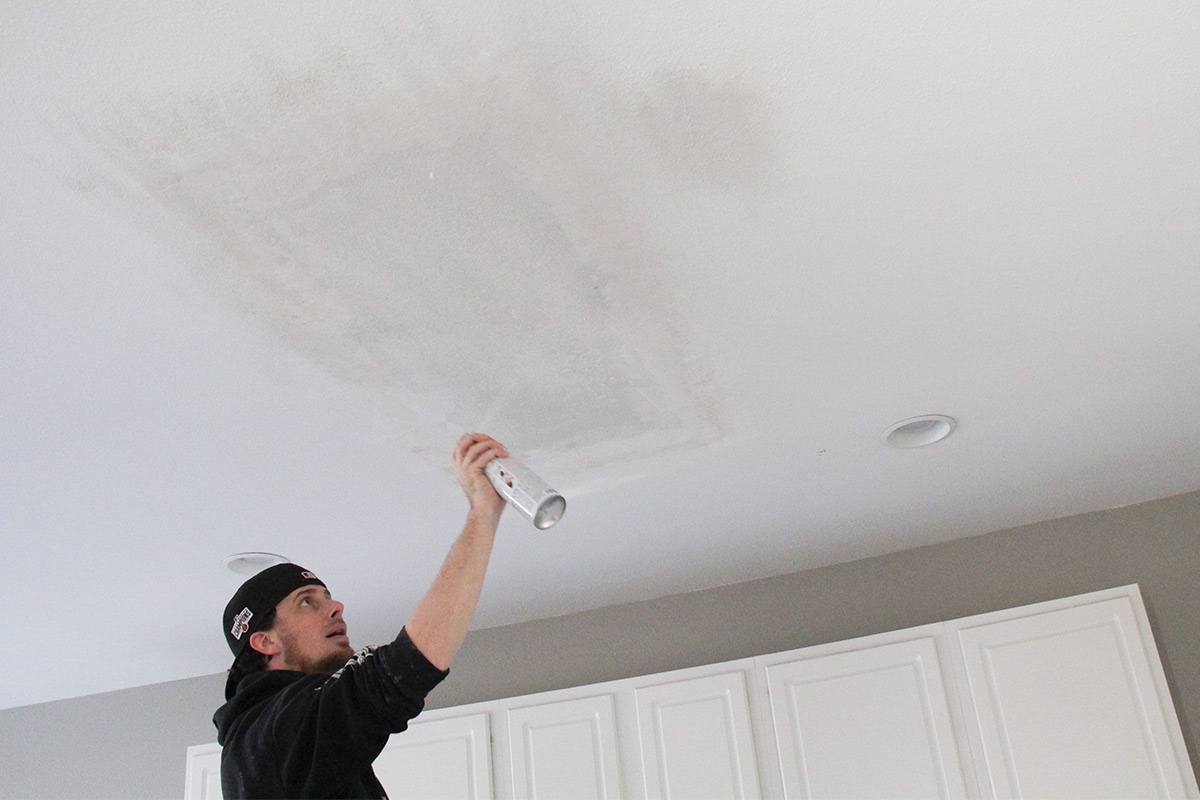 I hope you like this living and kitchen makeover and that you join us on this journey of turning our cookie cutter house into a unique home. Stay tuned more project to come.
Espero que este makeover de la sala y la cocina les haya gustado, aun nos quedan muchos mas proyectos por hacer, las invito a seguirnos en esta aventura de hacer nuestra hogar un lugar único.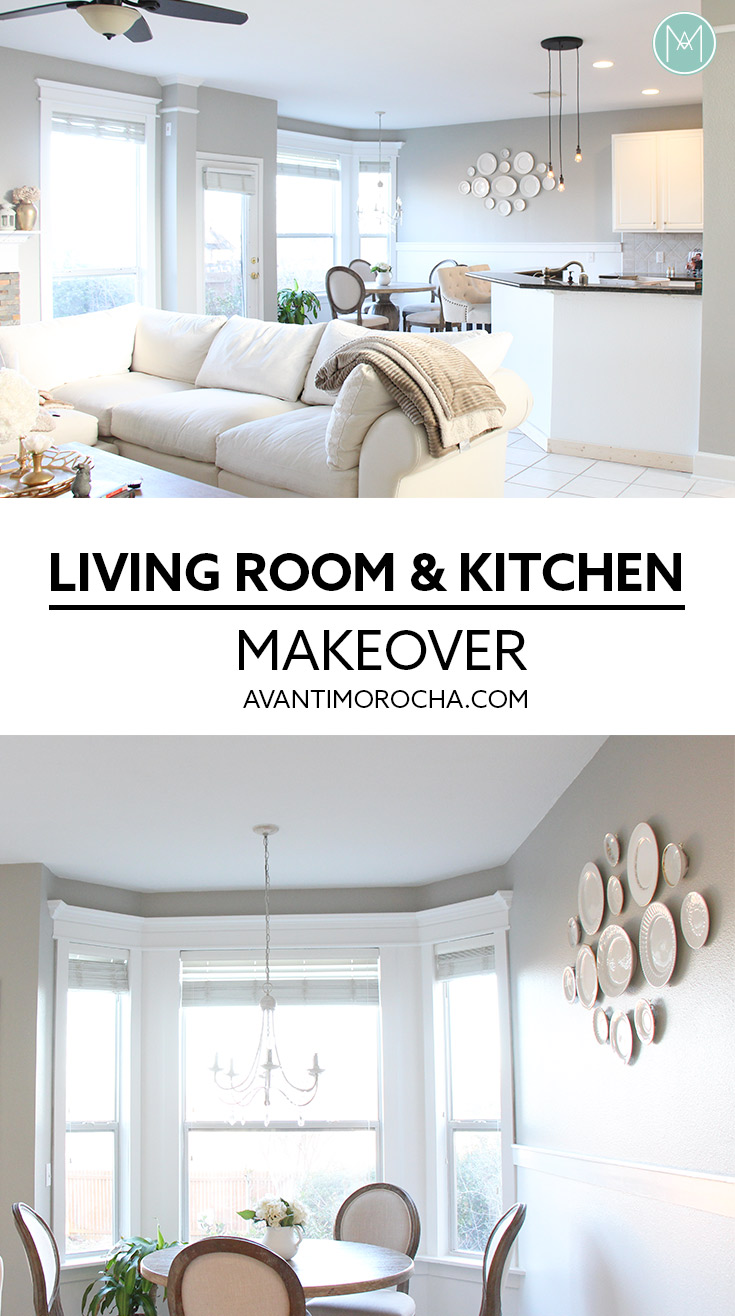 WATCH THE VIDEO OF OUR JOURNEY
PARA VER EL VIDEO EN ESPAÑOL DALE CLICK AQUI